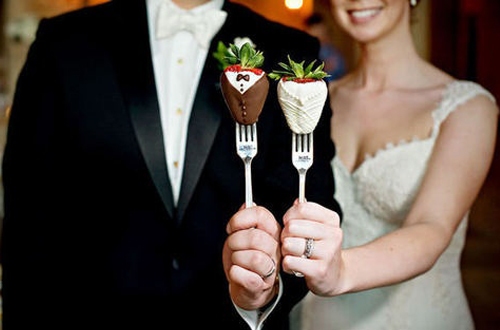 There are few fruits so rich with inherent romance as the strawberry. Associated with romantic forest picnics and candlelit dinners, this sexy fruit has played a role in pretty much ever bridal couples' journey to the altar and definitely deserves a spot on the guest list.
Serve strawberries with white, milk and dark chocolate fondues or fountains.
Cream cheese stuffed strawberries are the new strawberries-and-cream!
Instead of cake pops, serve strawberry pops: Two strawberries on a stick, dipped in chocolate and decorated with a dollop of fondant or icing.
Decorate your wedding cake with strawberries: Instead of then feeding each other a piece of cake, get gooey romantic and bite into a berry instead.
"Spread the love" by handing out miniature jars of home made strawberry jam as guest favours.
For a garden or picnic wedding, spoil each guest couple with a small basket of strawberries as a guest favour.
If you're in the mood to splurge a bit, add a small bottle of champagne and scones to the basket for a scrumptious day-after breakfast.
Set the country scene with large wooden pails of freshly picked strawberries for both munching and decoration.
In fact, why not consider having your wedding on a strawberry farm where guests can pick their berries themselves?
But remember: Strawberries aren't just for eating! The rich red hue of the strawberry set against the crisp white of the wedding day creates a magnificent contrast that's pleasing on the eye and fills the heart with summery joy. Hence, wherever the actual strawberry won't do the trick, make use of this bright and delicious colour contrast instead – for example red bridal shoes, red hair accessories and red button earrings for the girls and red bow ties or braces against white shirts for the boys. Tasty!
Spice up your white bouquet with bright red strawberries. To stop them from accidentally getting crushed and staining your gorgeous gown, dip each strawberry in clear glue and let it dry.
Send each guest home with a strawberry plant – a sustainable gift that will remind them of your wedding day for months after.
Print each guest's name on a tiny place card, mount it on a toothpick and stick the tiny rod in a fresh or chocolate coated strawberry – juicy and delicious place settings, indeed!
Incorporate the strawberry design into your big day for a bright and summery ambiance: on the invites, place cards menus, napkin rings, you name it.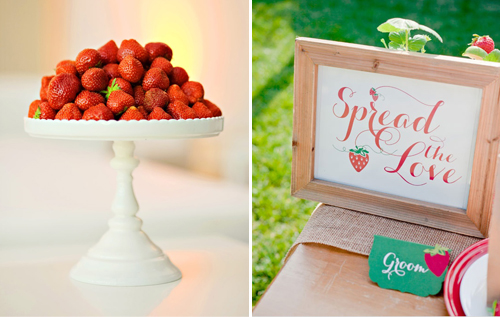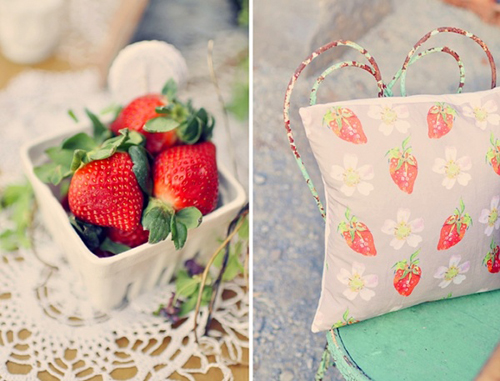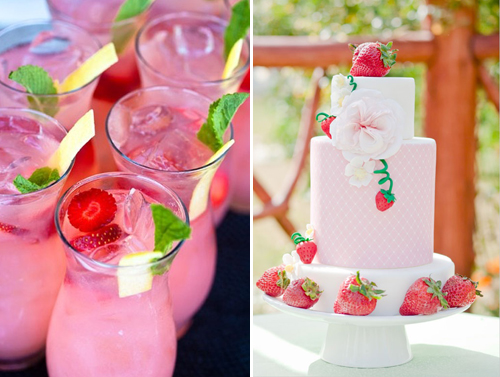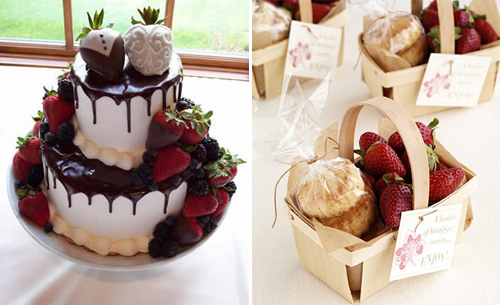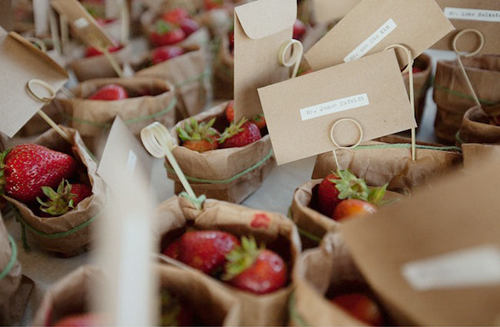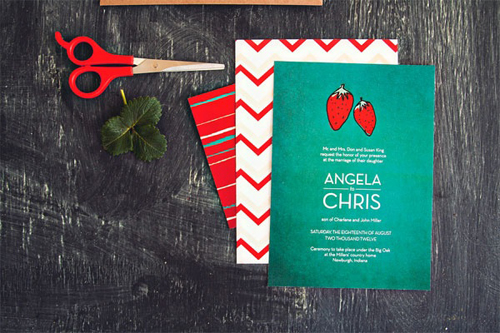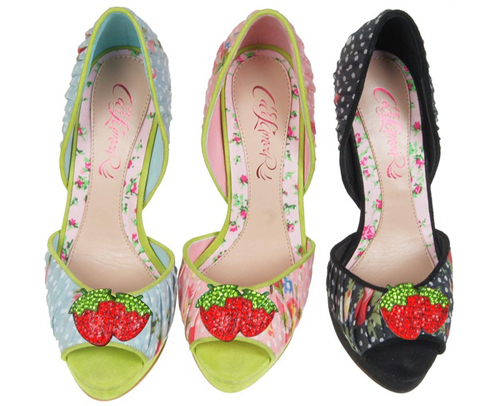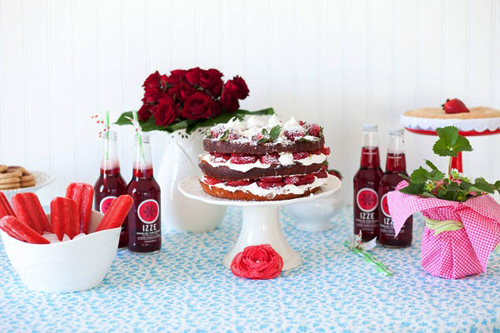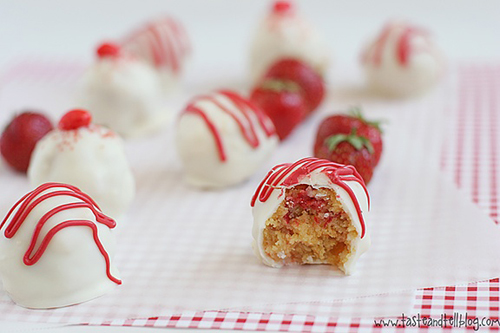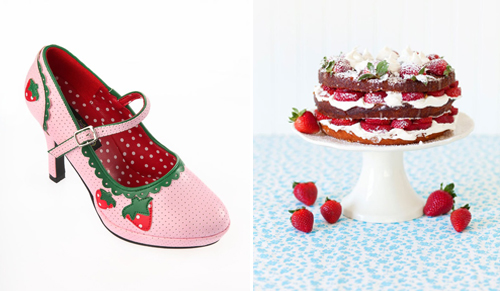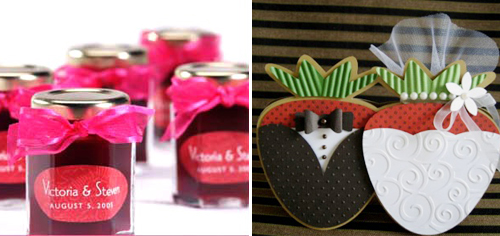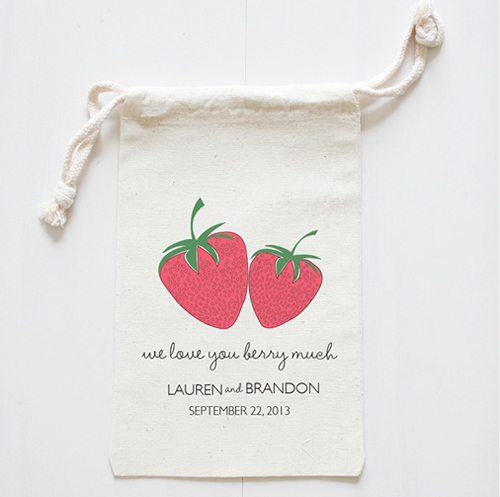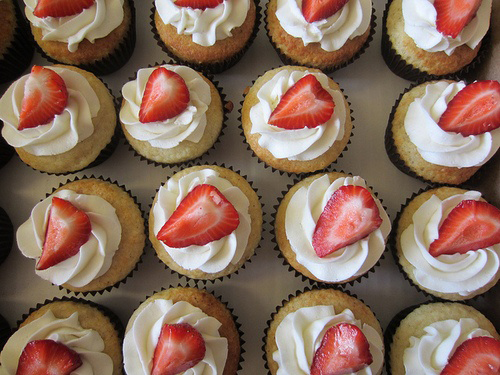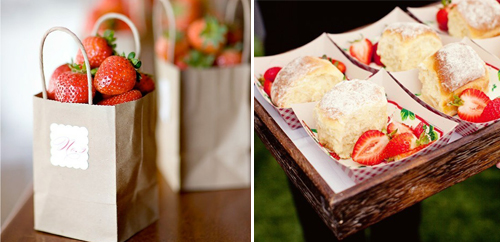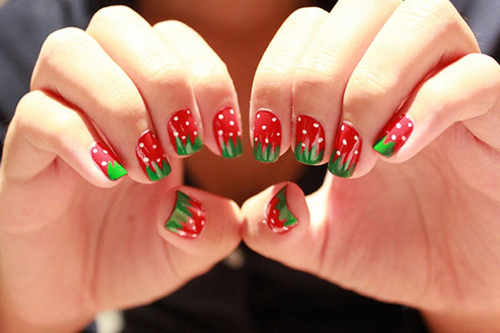 For more ideas on Strawberry Wedding Ideas or to check out the original photos displayed above and their credits, make sure to check out our Wedding Strawberries Pinterest board!