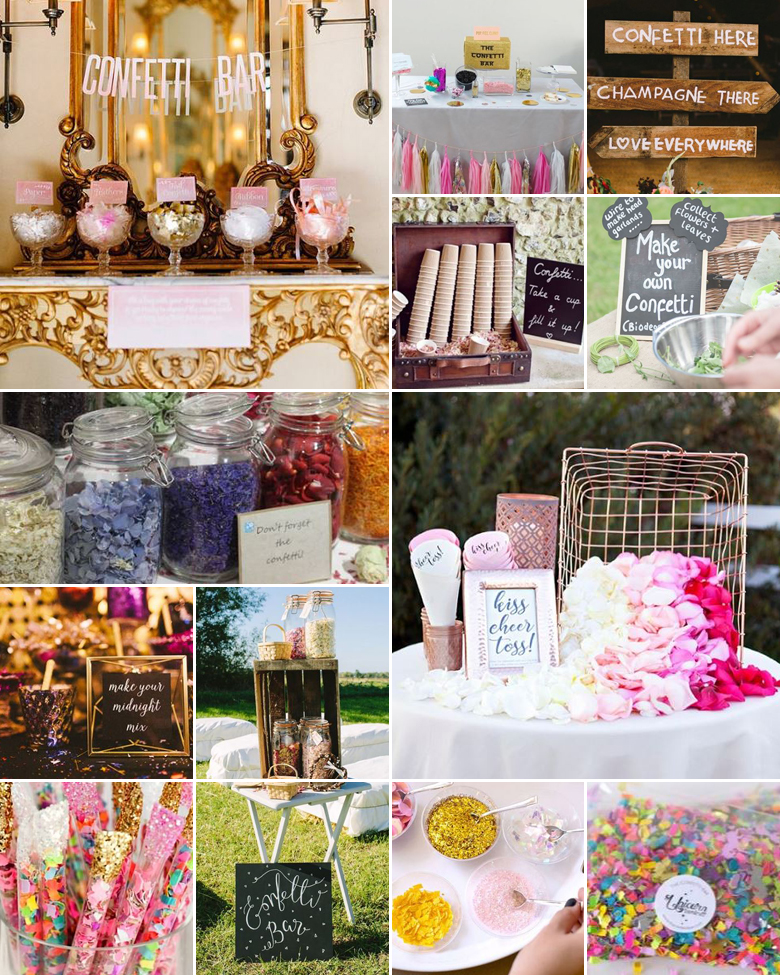 Are you trapped in a scenario where there's just too many confetti options and you simply cannot make up your mind? Well, why choose one when you can have them all! Today's post is all about a fresh new trend better known as "the confetti bar".
Incorporating all the many confetti options that you can't decide between, the confetti bar gives guests an opportunity to create their own personal mix of confetti prettiness. This is also an excellent way to keep them entertained while you're still getting ready to walk down the aisle, off signing the registry, or busy with your photo shoot.
The options are virtually endless! Give your guests a choice of traditional confetti, flower petals, streamers, glitter, sequins, paper hearts and more. The idea is to then provide little containers which each guest can label with their name and fill with a selection of confetti to sprinkle over your heads.
An important factor to always bear in mind is whether or not your venue allows synthetic confetti. If you're only permitted eco-friendly confetti, consider setting up a confetti bar with various flowers petals, oats, bird seeds and leaves. This adds a lovely element of DIY to the occasion, and certainly makes for an Instagram-worthy moment!
Get Your Confetti Items on Celebration.co.za
The requested RSS feed cannot be loaded at this time. This XML document is invalid, likely due to invalid characters. XML error: Undeclared entity error at line 22, column 68
Original images and their credits available on Pinterest