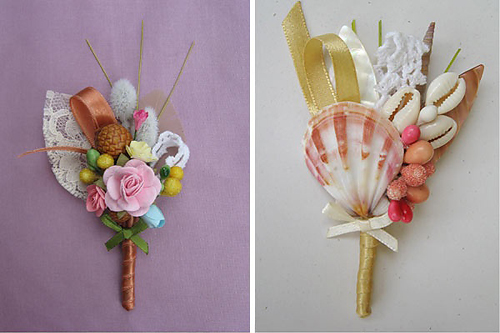 The days of pinning a wilted carnation to your groom's lapel is, thankfully, something of the past. For such a tiny element the boutonnière is generating a great amount of hype and these days it's all about seeing how much creativity you can possibly put into this four-inch suite decoration.
The trend lately is to move away from the floral boutonnière and incorporate other unexpected elements into this tiny arrangement:
No one's saying don't use flowers, just use them more creatively. Play with different combinations and move away from roses, ferns and other expected flora and fauna, to more modern flowers like orchids and lilies.
Draw inspiration from your hubby's hobby. If he's into golf use a golf tee or two as part of the mini arrangement; If old fashioned toys are his thing or he's still a child at heart, pin a green army guy, superhero figurine or Lego man to his suit.
Use succulents, wheat ears or billy balls to go with a more rustic themed wedding.
If you're getting married on the beach, create a boutonnière out of dried corral, bits of driftwood or fisherman's rope.
Instead of real flowers, make paper-, button- or fabric flowers for your bouquet as well as the boutonnières.
Crochet a flower or create a rosette using ribbon and a button.
Feathers are a popular element for weddings and there are few things as charming as a tiny bundle of guinea fowl feathers or a single peacock feather pinned to a suit.
Leaves come in a variety of shapes and colours and don't always get the recognition they deserve. Instead of using them as space fillers, make them the focus of the boutonnière.
Add a little flavour to the gathering by using herbs like mint or rosemary or something a little more colourful like a bright red chilli or even cherries.
If you're planning a rainbow wedding, assign a colour to each grooms man and select the flower for his boutonnière accordingly. The look can be completed with a bow tie or braces in a matching colour.
Use candy instead of flowers – old fashioned toffees (in their wrappers of course) or rainbow lollies are perfect, sweet and incredibly quirky.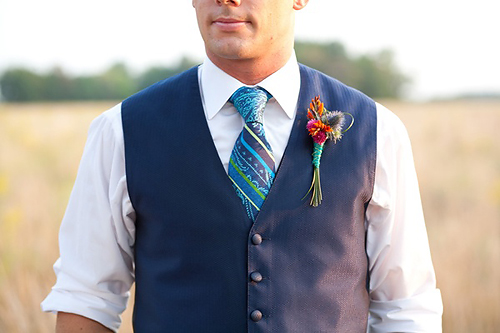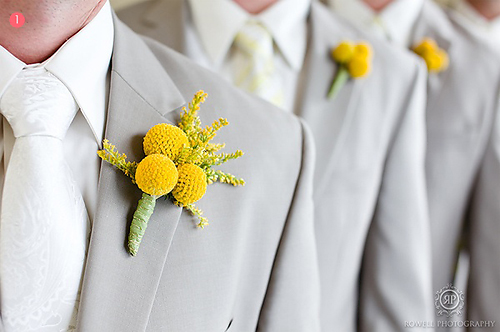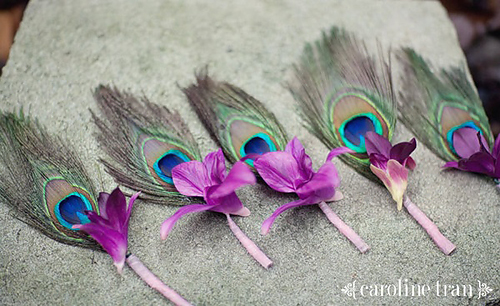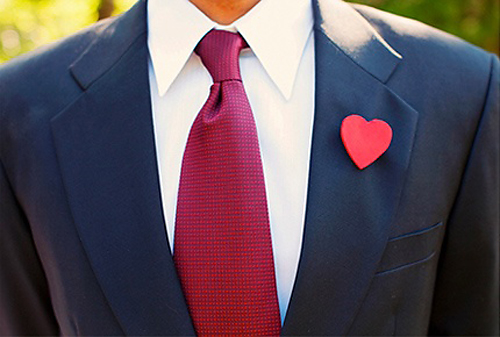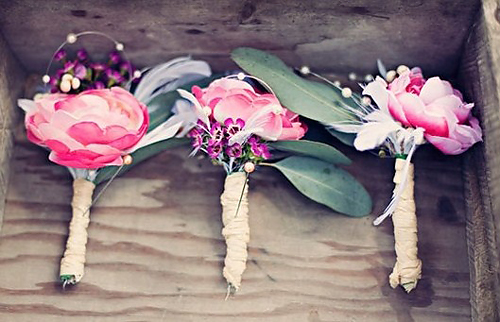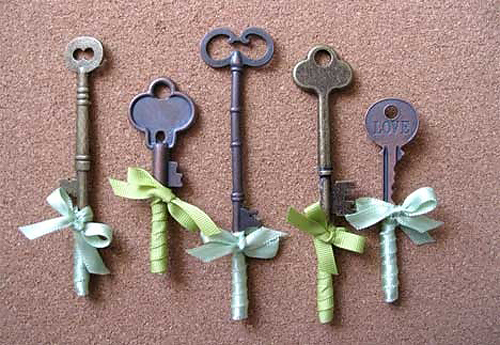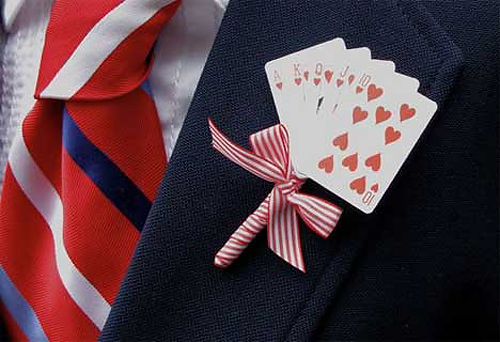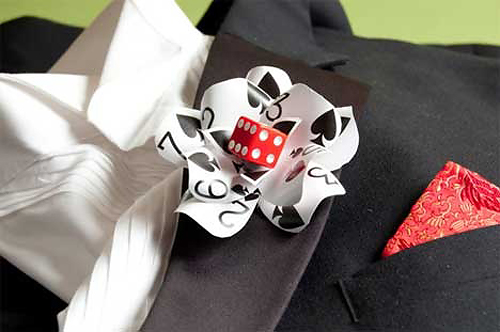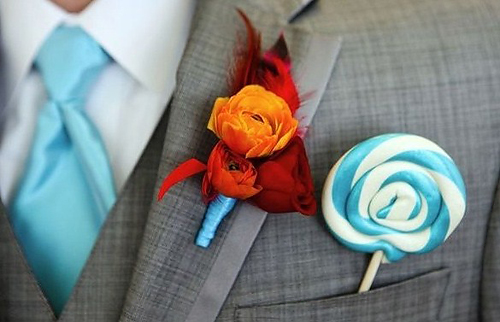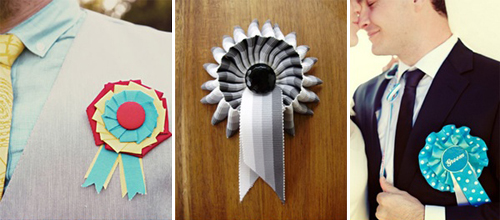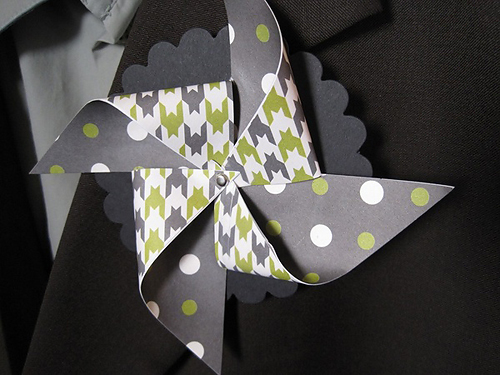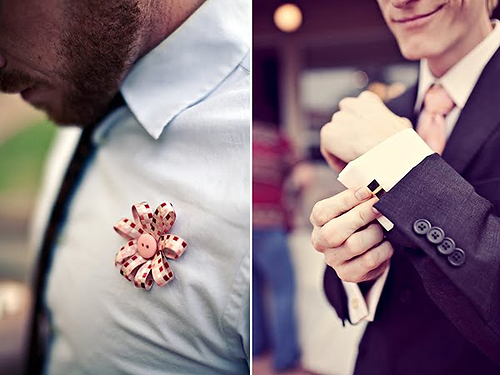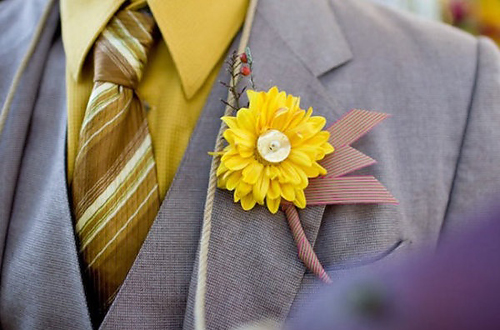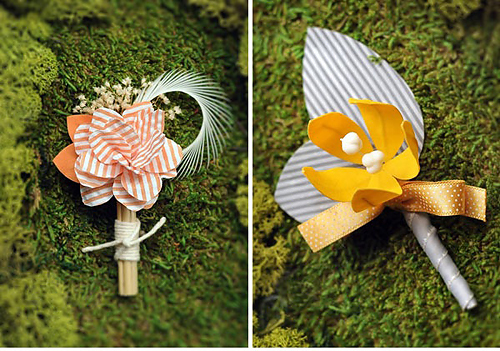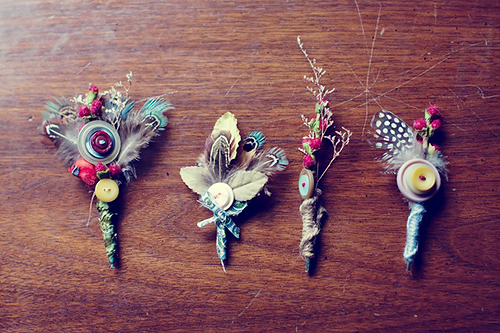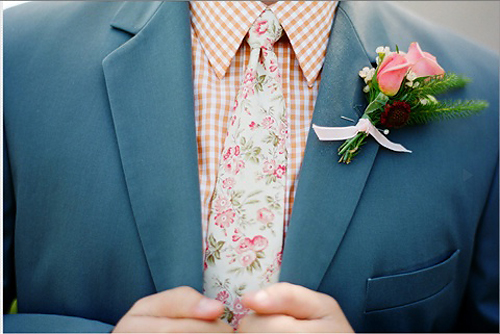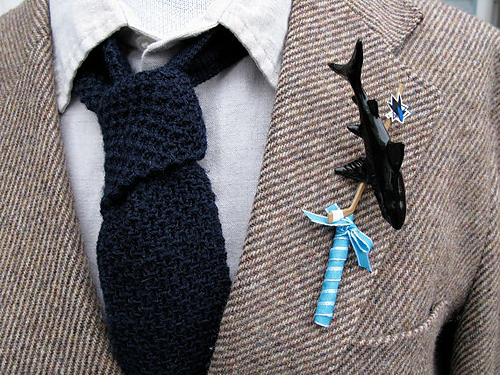 For more ideas on Boutonnières or to check out the original photos displayed above and their credits, make sure to check out our Boutonnières Pinterest Board!