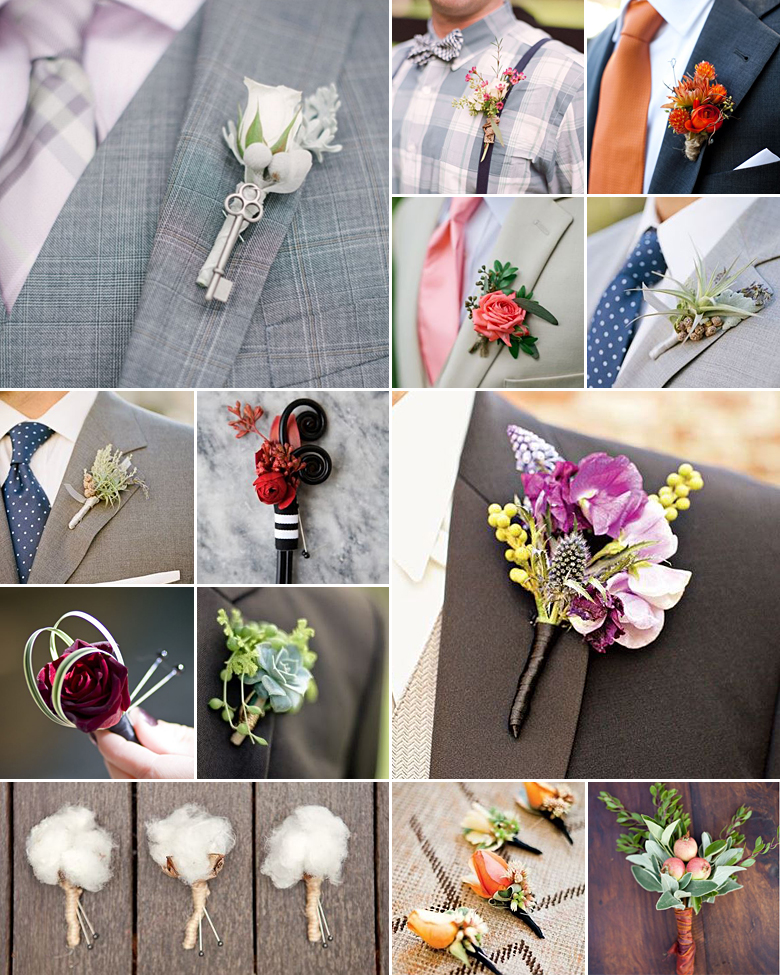 Sometimes tradition has to make way for trendiness – as in the case of the classic boutonniere. Flowers are classic, but these days it's all about seeing how much creativity you can possibly put into this four-inch suit decoration.
Draw inspiration from your hubby's hobby. If he's into golf use a golf tee; if he's still a child at heart, opt for a green army guy, superhero figurine or Lego man.
Use succulents, wheat-ears or billy balls to go with a more rustic themed wedding.
If you're saying "I do" on the beach, create a boutonnière out of dried corral, bits of driftwood or fisherman's rope.
Instead of real flowers, make paper-, button- or fabric flowers, or crochet a blossom with your own two hands.
There are few things as charming as a tiny bundle of guinea fowl feathers or a single peacock feather pinned to a suit.
Add a little flavour to the gathering by using herbs like mint or rosemary or something a little more colourful like a bright red chilli or cherry.
Match up your grooms men with the bridesmaids by choosing flowers matching the dresses.
Use candy instead of flowers – old-fashioned toffees (in their wrappers of course) or rainbow lollies are perfect, sweet and incredibly quirky.
SHOP BADGES AND BOUTONNIERE
The requested RSS feed cannot be loaded at this time. This XML document is invalid, likely due to invalid characters. XML error: Undeclared entity error at line 22, column 147
Original images and their credits available on Pinterest