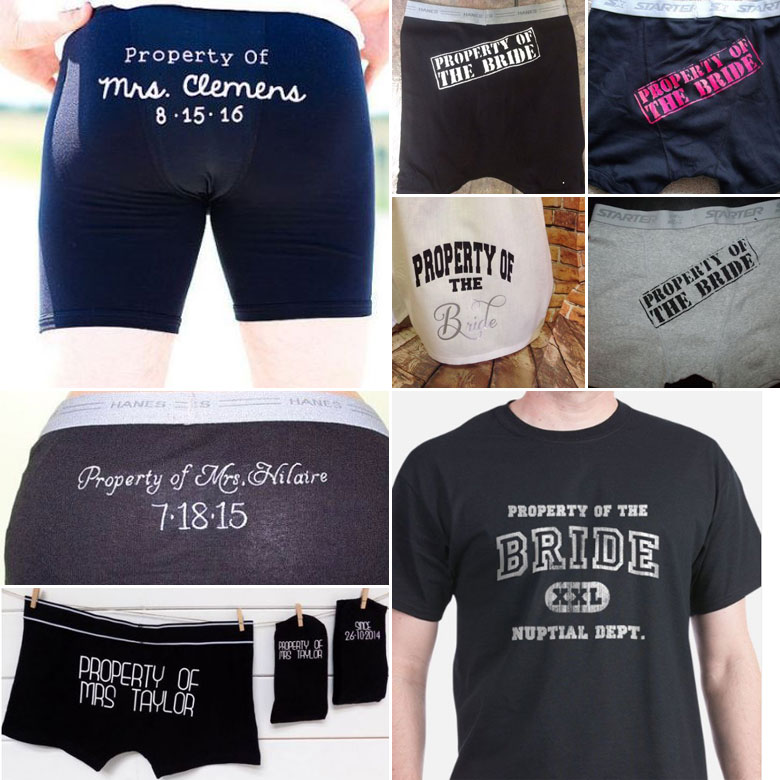 The wedding day is a time when you get to declare your eternal love for each other… and you get to stake your claim and tell all other girls that it's officially "hands-off" your man! If you and your hubby-to-be have this sort of tongue-in-cheek relationship, then you might want to spoil him with a quirky gift that reflects just that.
"Property of the bride" gifts are becoming more and more popular by the day, and we love this little inside joke between husband and wife. We're especially taken with the idea of giving embroidered underwear that clearly "marks your man" – and it makes the perfect on-the-day gift for your soon-to-be husband.
Be sure to ask the photographer to get a shot of the underwear peeking out over his pants, because he most likely won't wear it again after the wedding – and it's a joke to remember! If giving underwear is a bit out of your comfort zone, you can always go with a printed mug or cuff links instead.
Printed underwear is available at most online wedding shops, and you even get fun ones for the groomsmen. This can make a fun and quirky gift from groom to men, especially if they share a close yet fun "man-bond".
Gifts for the Groom
The requested RSS feed cannot be loaded at this time. This XML document is invalid, likely due to invalid characters. XML error: Undeclared entity error at line 22, column 147
Original images and their credits available on Pinterest