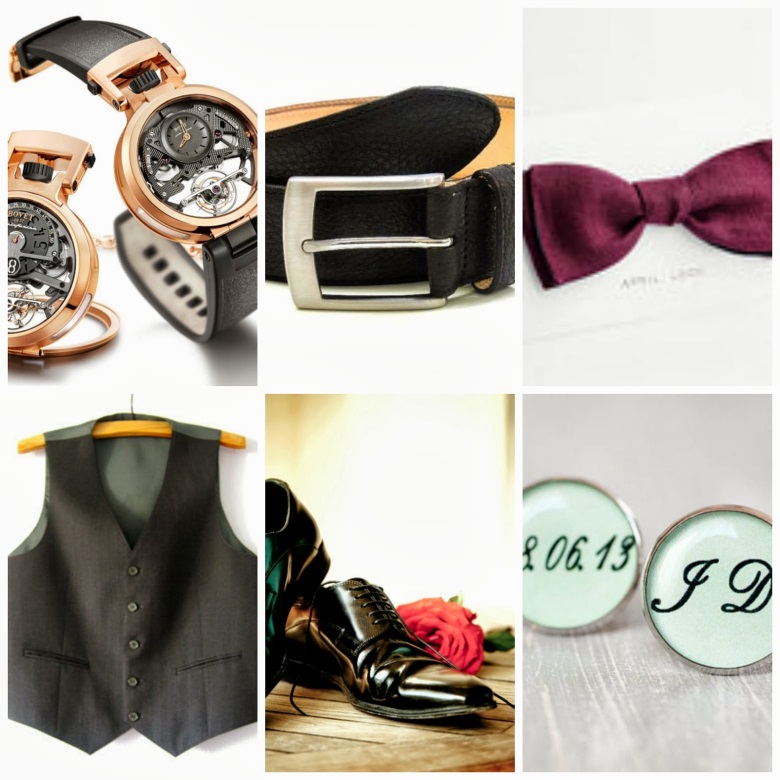 While the bride's wedding gown and attire certainly steals the show at many a wedding, the groom is also kitted out and looking his best. His outfit needs to suit the style and theme of the wedding, and needs to cater to his unique tastes and personality. In addition to the basic elements of his suit (whether a tuxedo, a day suit or something less formal), there are a number of bridal accessories available to grooms. These add an element of pizzazz and certainly create a very special look and feel for the big day.
Grooms' accessories include:
Cufflinks – these are usually reserved for special occasions, and what day could be more appropriate than the wedding? Accessory outlets are now providing a range of cute, funny and glamorous cufflinks to match any personality, style and theme. These also make for fab keepsakes for the groomsmen.
Cravats – this classic style of neckwear has, again, become a very popular option for grooms and groomsmen. It is usually worn with a matching or complementary waistcoat.
Ties – the traditional tie is perfect for less formal weddings or grooms that are not comfortable in cravats or bowties. These can be worn without a waistcoat, and are available in an enormous variety of colours and designs.
Pocket squares – an added extra that finishes off a formal suit to perfection, the pocket square should be the same colour and design as the waistcoat and cravat / tie / bowtie. Have a little fun with it by creating a flouncy look or be more subtle with a neatly ironed affair.
Cummerbunds – these bands go around the waists of the groom and groomsmen, under the jacket. They create a very formal look and should match the neckpiece.
Bow ties – these go particularly well with a tuxedo and really do give the outfit a special air of elegance and classic style.
Waistcoat – this is a great addition to finish the suit off, even when the jacket is removed at the reception. The groom's waistcoat can be slightly different to those of the groomsmen to make him stand out. Waistcoats are available in an endless array of colours, textiles and designs.
Socks – do not neglect this important facet, which is likely to show when the groom is posing for certain photos, dancing and, perhaps, kneeling at the altar.
Shoes – polished, comfortable shoes are a must to ensure that the men in the bridal entourage are able to enjoy the day without squashed toes and blistered feet. Depending on the suit, the shoes are usually black or brown. However, each couple and wedding is unique, and the shoes allow for you to get creative. Fun options include boots, wellingtons and sneakers.
Watch – do not wear a watch unless you have a stylish, elegant one. Your plastic diving watch will only detract from the formality of the day (no matter how many metres down you can dive with it).
Belt – your belt should match the colour of your shoes, and should be comfortable. Do not squeeze into a belt you already have if it does not fit properly. Rather, invest in or hire a belt that is flattering and easy to dance in.
Certain traditions (such as many of the Asian religious ones) dictate very different accessories for grooms, including jewellery and colourful jackets. For this special occasion, it is worth hiring or borrowing the appropriate attire. The wedding photographs and memories will last a lifetime and it is important that you look and feel your best.
Photo Credit: www.unconventionalbrides.com