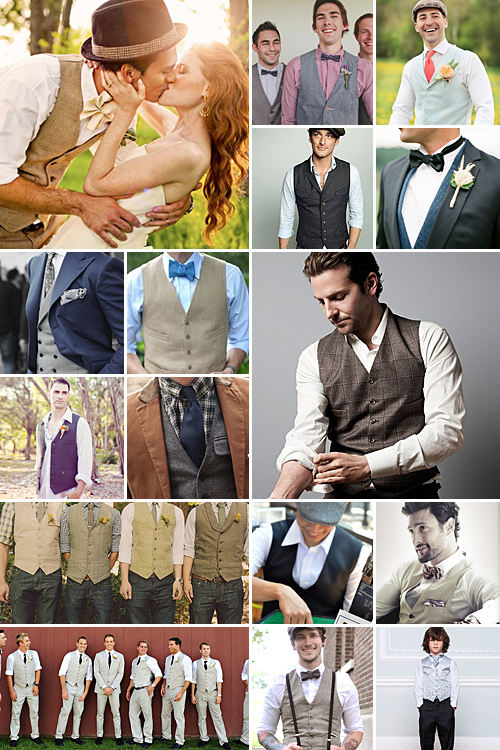 As the saying goes, "there's nothing sexier than a man in a suit". However combine that saying with "less is more" and you have yourself a chic, simple and sexy man in a striking waistcoat. With this stylish garment the groom can really head in one of two directions – waistcoat under a blazer or waistcoat on its own.
The first option oozes sophistication and is reminiscent of a dashing English gentleman. We also love the fact that the blazer gives the groom's outfit a sense of versatility – here you have the opportunity to hide a whole new and laid-back look under the blazer, which can later be revealed at the reception.
When it comes to waistcoat sans jacket, you have the opportunity to be a little more quirky in terms of tie and accessories. For instance, for a charming country boy look, opt for a bow tie and braces and maybe even a cute little beggar hat or fedora. Alternatively, drop the tie altogether for a more slick and contemporary look, or wear a checked or striped shirt underneath the waistcoat.
Because it's the groom's special day, there's no reason why he shouldn't feel and look special. Therefore we just adore the idea of a groom dressed in a full suit and the groomsmen donning the waistcoat look. Another option is to opt for waistcoats of different colours, textures or fabrics to make Mr Man stand out above the rest. Waistcoats can also be paired with anything from fancy pants to jeans and even shorts – it's all about wearing it with the right attitude and a sexy smile to go with that sexy coat.
For more Groom Waistcoats, the original photos above and their credits, please make sure to check out our Groom Waistcoats Pinterest Board!