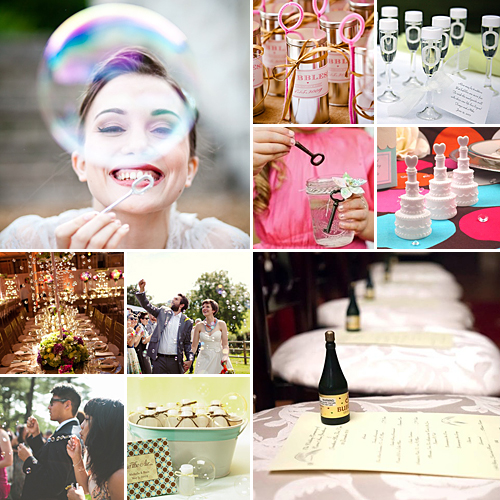 Bubbles evoke childhood memories of lazy cloud-gazing afternoons, climbing old oak trees and having princess parties in the garden, and no adult can resist partaking in the bubble-blowing fun. Including bubbles in the wedding festivities is a sure way to break the ice and set the scene for a whimsical evening of laughter and fun.
First you need to find the appropriate container – and please, do get creative! Consider using recycled baby food jars, little tins, mini mason jars or any interesting holder you can find on the market. The bubble sticks can be bought at most wholesalers or you can bend it yourself using a short piece of wire and a pair of pliers.
Once that's sorted, it's time to decide how you're going to incorporate the blissful bubbles into the festivities:
Instead of confetti, give each guest a vile of bubbles to blow when you exit the ceremony venue.
If you're expecting kiddies at the wedding, place a bottle of bubbles by their plates to keep them entertained throughout the evening.
Rent a bubble machine or let your guests blow bubbles over your heads when you take to the floor for the first dance.
Surprise your guests with big ol' chunks of pink bubblegum to have a giggle or a contest with during canapés!
Indulge in a little bubble blowing fun of your own during your couple's photo session.
Decorate the stationery with a bubble-inspired motive or pattern.
Hang round glass orbs, or shall we say "immortal bubbles", from the ceiling and trees, and decorate the guest tables with fishbowl vases.
Break out a bottle of bubbly to celebrate the union of two souls.
To complement the bubble theme, decorate the wedding venue with plump helium balloons – gigantic bubbles, if you will.
For more Wedding Bubbles ideas, the original photos above and their credits, make sure to check out our Bubbles Pinterest Board!