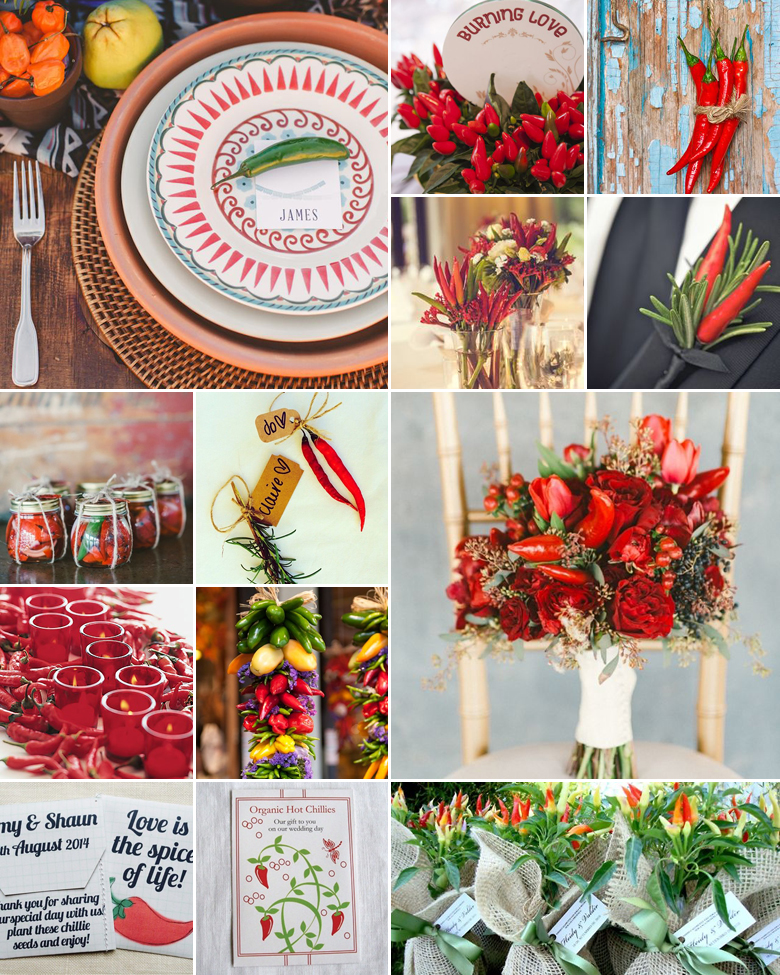 While you certainly want to be the hottest thing on your wedding day, there's no shame in sharing the spotlight with feisty chillies. With so many shapes and varieties to choose from, the chilli is as versatile as they come and can therefore feature everywhere from the menu to the décor spread:
Include chillies in your bridal bouquet for an interesting and organic dash of colour.
Serve spicy hot chilli fare such as chilli poppers, and play around with interesting combinations like chilli dark chocolate and chilli milkshakes for dessert.
Hang bunches of chillies from the ceiling and chair backs.
Dried chillies can be just as lovely as fresh, especially when you're using it to decorate stationery pieces.
Incorporate chilli prints and designs into the look and feel of your stationery elements.
Spoil your guests with homemade jars of chilli preserves, mini bottles of hot chilli sauce or a beautifully packaged chilli plant to brighten up their gardens.
Keep an eye out for chilli-inspired jewellery, and why not have the flower girl's dress made out of fabric with a quirky chilli pattern?
Invest in a chilli shaped ink stamp to pretty up elements like your place cards and napkins.
Original images and their credits available on Pinterest