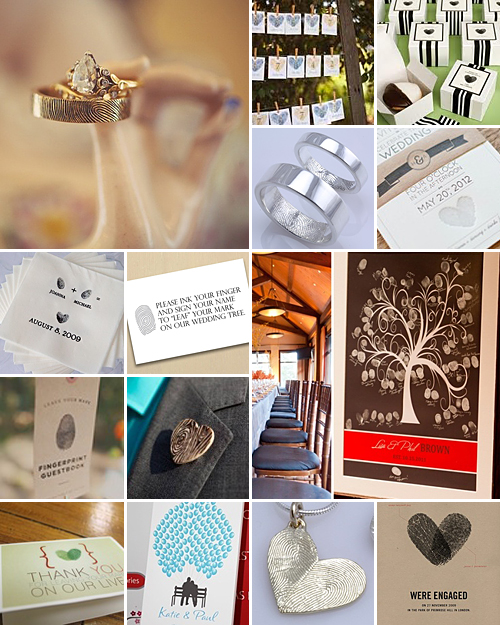 Nothing says "unique and personal" quite like a fingerprint, so what better way to make your very own mark in wedding history than by incorporating a print or ten into the elements for the big day? Aside from signing the register, fingerprints can be used in various fun and creative ways…
For starters, when slightly overlapped and printed at a 90-degree angle, you'll notice that two fingerprints form a heart – a very apt demonstration of two individual hearts joining in matrimony to be one. This sweet little design can be used to decorate anything from the invitations and save-the-dates to table plan, venue walls and napkins.
Here are a couple of other ways to make the most of your one-of-a-kind prints:
Set up a canvas where guests can make note of their attendance with their finger prints (and names) – a lovely "log book" reminder that can be hung in the living room. We especially love the idea of a skeleton tree where the guests' finger prints represent the leaves or balloon strings which guests can top with their coloured "balloon prints".
Have your fingerprints enlarged to A4 or poster size and write your love story between the curving lines. This classic story can then be used to decorate the wedding venue walls or programmes for the day.
Instead of engraving words or a date into your wedding rings, have a section of your new hubby's finger print engraved into the metal. Tattoo fanatics can even go as far as having their new partner's finger print tattooed onto their bodies.
Alternatively surprise him with a pair of custom made cufflinks with your fingerprints engraved onto it or (if you're the groom) have a locket designed with your print on/in it.
Ask the wedding photographer to get a snapshot of the two of you with inked thumbs, after signing the register – too cute!
For more Fingerprint Wedding Ideas, the original photos above and their credits, make sure to check out our Fingerprint Weddings Pinterest Board!