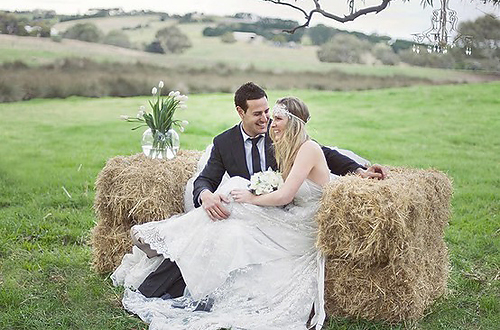 Hay bales might not be Sandy, Marie, Delilah or any bride's idea of dream wedding material, but with a bit of imagination and an ounce of creativity, a bale of two can be nothing short of whimsical. Weddings are expensive, there's no arguing that, so if ever there's a way to save a rand or two, it's worth giving it a chance, we think.
Hay bales have a lovely rustic charm about them which makes it ideal for a farm or country style wedding, yet they're also fun and quirky – just perfect for a picnic or carnival themed celebration. In fact, when guests see hay bales they'll immediately know that "fun" is most definitely on the agenda for the day.
The most important thing to bear in mind with hay, is that it has the annoying ability to make you itch like crazy. Hence it's vitally important to either cover it with fabric or have it treated with a solution that will keep the hay from sticking in guests' clothes or blowing all over the place should the wind pick up. That said, let's look at some ideas for turning a good ol' hay bale into an elegant feature:
If you're planning an outdoor ceremony, arrange hay bales along the side of the aisle to serve as guest seating.
Stack hay bales as high as the ceiling as a room divider – especially perfect if you're getting married in a barn an need to cordon off the kitchen or unsightly farmyard implements.
Turn it into a focus wall by prodding long-stem roses or gerberas into the side of the hay bales or pin your seating plan to a bale using long pieces of wire.
Also consider using a stack of hay bales as the backdrop for your farm style photo booth.
Stack three hay bales – one in front and two at the back – to be used as little couches.
Use hay bales as mini coffee tables in your chill/cocktail area.
Build a little stage out of hay bales by simply placing a sheet of wood on top the bales.
For the cocktail party, use hay bales in carnival themed games such as target shooting or water balloon throwing.
Stack hay bales in piles of varying heights for the musicians to sit on.
Arrange a Trash the Dress photo shoot for a day or two after the wedding, and dive and frolic around in a pile of hay with your new hubby.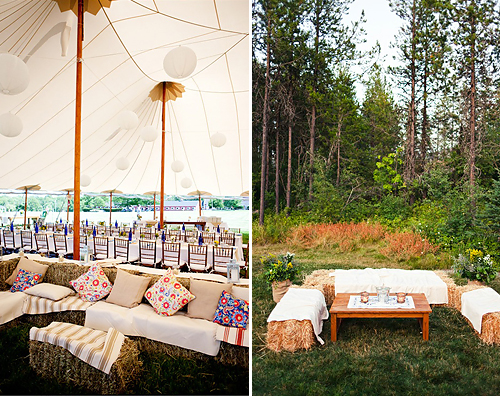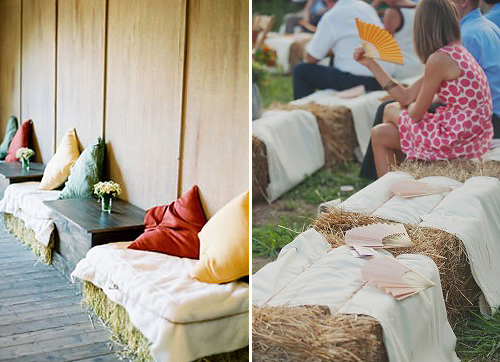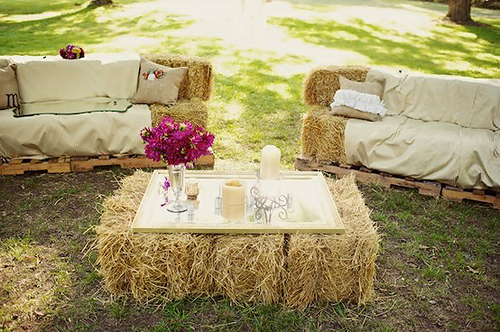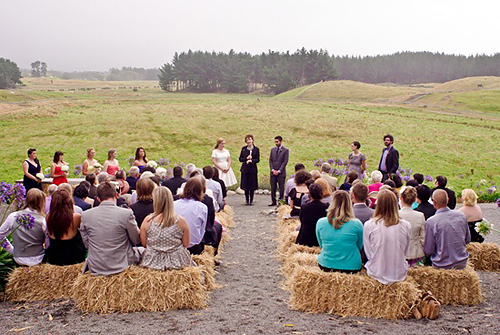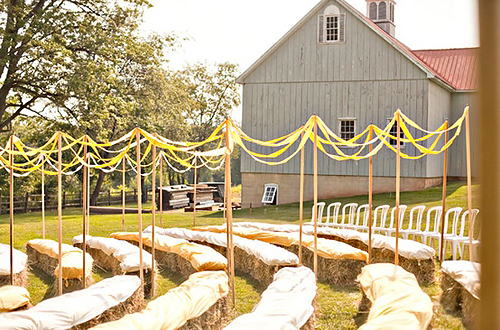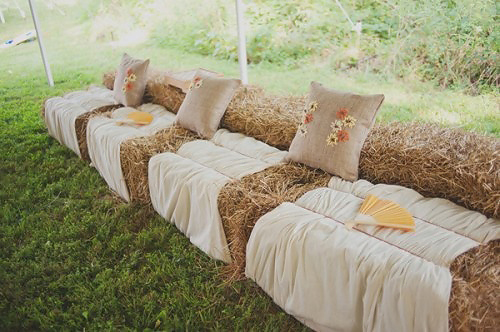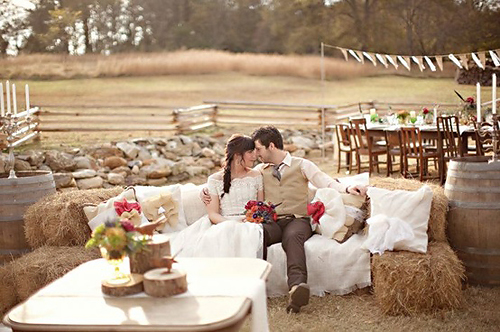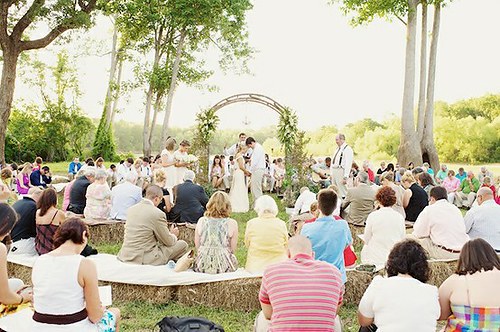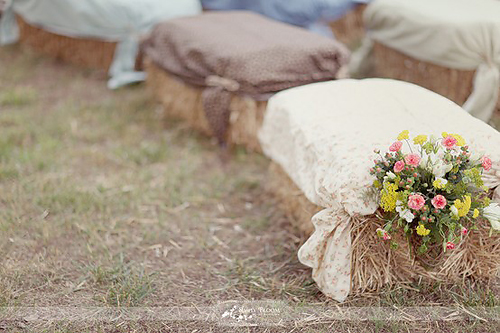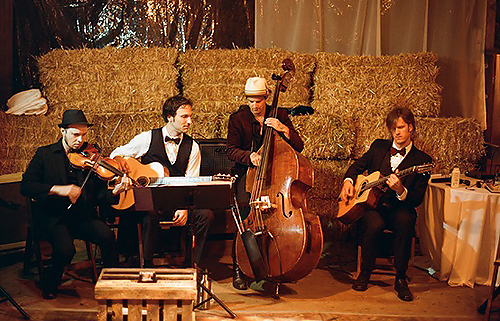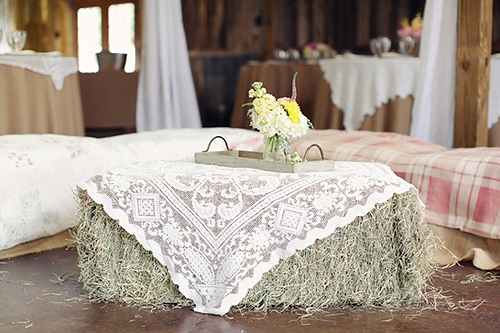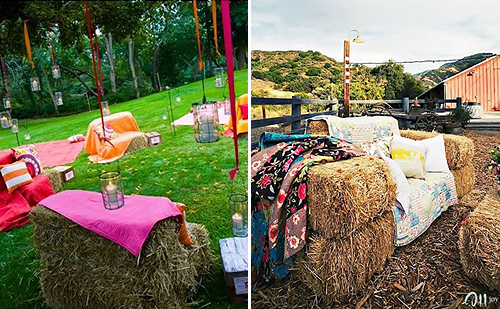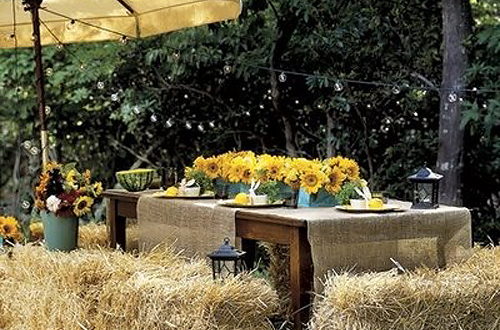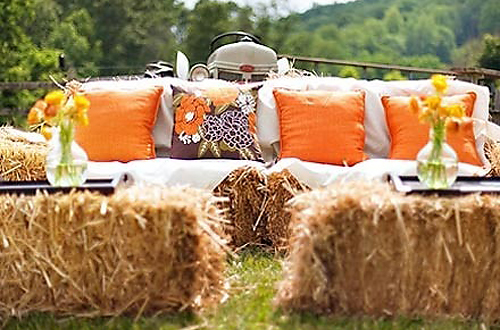 For more ideas on Weddings and Hay Bales and for the original photos above and their credits, please visit our Wedding Hay Bales Pinterest Board.