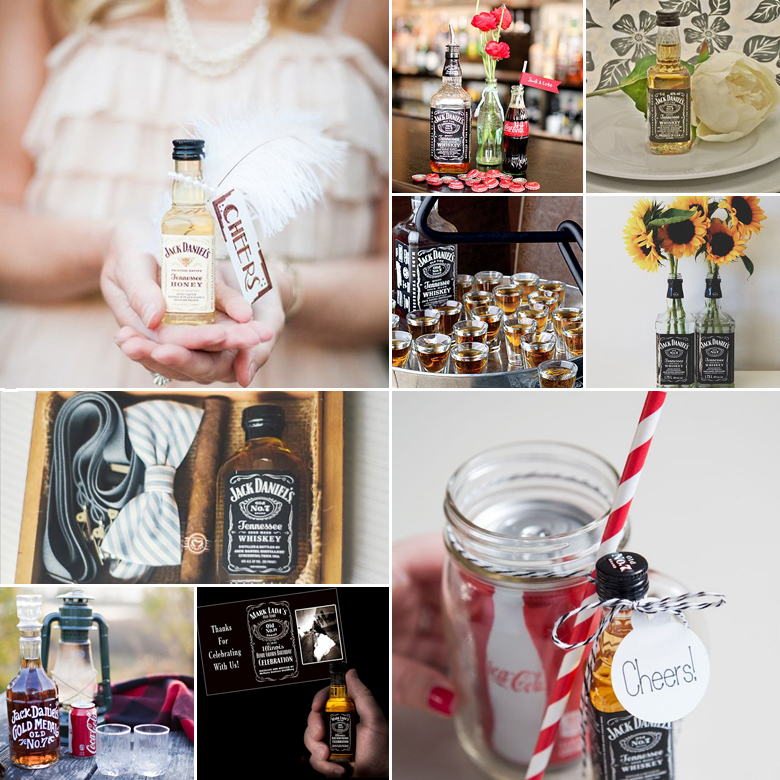 Fancy a nightcap? Jack Daniels has quite the cult following and generally makes an appearance at most weddings celebrations. But if you and your hubby-to-be love ol' Jack almost as much as you love each other, there's no reason why he can't play a leading role in your big day.
Draw inspiration from the iconic Jack Daniels label design, using some of the curls and design elements in your own stationery and wedding cake designs.
Choose the very striking Jack Daniels typeface for your wedding invitations and other stationery elements.
See if you can get your hands on some vintage Jack Daniels shipping crates, which you can then use as table decorations or on the dessert buffet.
Alternatively, invest in a Jack Daniels ink stamp or paint stencil and use it to brand your own wooden crates and vintage gift boxes.
Put empty Jack Daniels bottles to good use – ideal as flower vases and rustic candleholders.
Spoil guests with mini bottles of Jack Daniels, which they can take home and enjoy after the wedding.
Break tradition and toast your new marriage with Jack Daniels instead of a glass of bubbly.
Surprise your groomsmen and bridesmaids with an "emergency kit" for the big day, containing a bottle of Jack Daniels and other bits and bobs.
When choosing your entourage, give each special person a bottle of Jack Daniels with a "will you be my bridesmaid/groomsman?" card tied to the neck.
Original images and their credits available on Pinterest