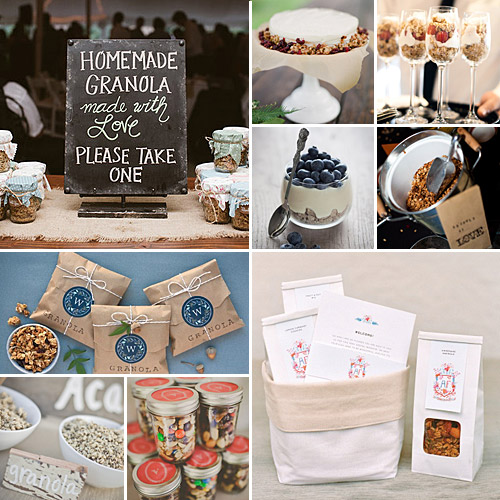 You start every morning with a hearty bowl of granola, so why not start the greatest journey of your life with a similar energy kick? Granola has a wholesome and homemade quality to it that is reminiscent of country life, and a single bite is enough to warm the very cockles of your heart.
While it stands to reason that you're more likely serve granola at a morning than an evening wedding, who doesn't love to snack on a handful any time of day? So you can only imagine guests' delight when your waiters come bearing mini bowls of granola as a midnight pick-me-up treat!
Kick off the wedding day on a hearty note by enjoying a granola-packed breakfast or smoothie with your bridesmaids.
Treat your guests to jars of beautifully layered homemade granola as guest favour – the ideal next-morning pick-me-up.
Alternatively, fill pails or containers with various granola ingredients and allow guests to create their own mixes to take home.
If you're having a morning wedding, surprise guests with granola and yogurt parfaits made up in champagne flutes.
Opt for a rich and nutty granola wedding cake or have your cake decorated with dried fruits, berries, chocolate chips and granola.
Have your guests toss granola instead of paper confetti, to give the birds a little treat.
Add a little crunch to dessert by using granola and dried fruit as a scrumptious topping.
Granola looks as stunning as it tastes, so place big crystal vases filled with this nutty indulgence in the middle of the tables for guests to nibble on.
Original images and their credits available on Pinterest