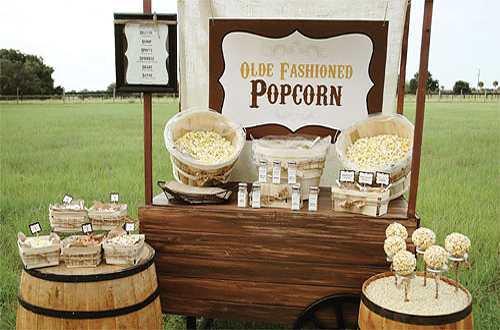 He's popped the question (or maybe she did) and now it's time to celebrate your love with popping of a different kind! Popcorn is one of the healthier snacks available and is highly addictive – once you start, there's just no stopping. Incorporating popcorn into your wedding day is a fun, playful approach to a very special event.
Popcorn is easy on your budget and is a favourite for young and old alike. It is easily available and adds a great dimension to your wedding day without massive expense or effort.
Here are some ideas to help you to incorporate popcorn into your big day:
Instead of traditional confetti, give guests popcorn to throw over you as you leave the ceremony venue. This is budget-friendly and biodegradable (if the pigeons don't gobble it all up before it has a chance to go back to the earth).
Put a small brown bag of popcorn at everyone's place setting with their name scrawled on the bag in playful writing on the outside. This can be the guest favour and the place setting name all in one.
Serve popcorn to your guests instead of or along with your welcome drinks. Serve this in cute (disposable) paper cones or cupcake cups for added convenience.
Have a popcorn buffet at your reception with a wide array of sweet and savoury popcorn flavours on offer in massive glass jars with lids. These flavours can include Cinnamon & Sugar, Peri-Peri, Caramel, BBQ, Lemon & Herb, Salt &Vinegar, Butter, and so on.
Make delicious popcorn clusters by melting chocolate or marshmallow fluff, adding popcorn and then spooning balls of the mixture onto wax paper to set into clusters.
If possible, hire a popcorn machine to produce fresh snacks during your wedding reception.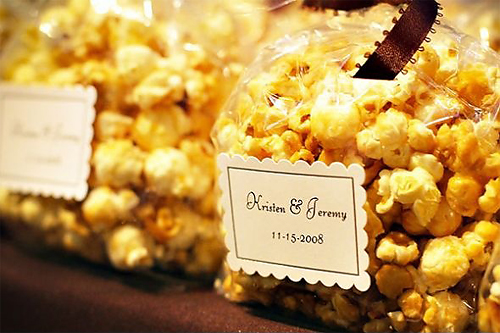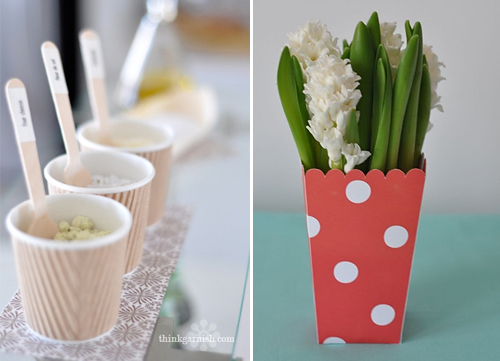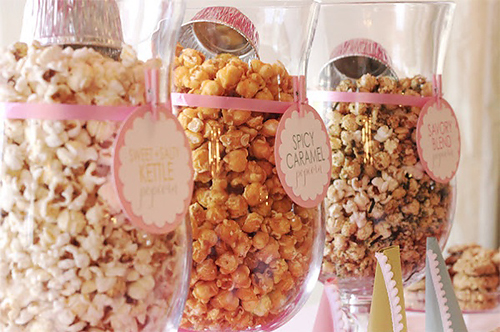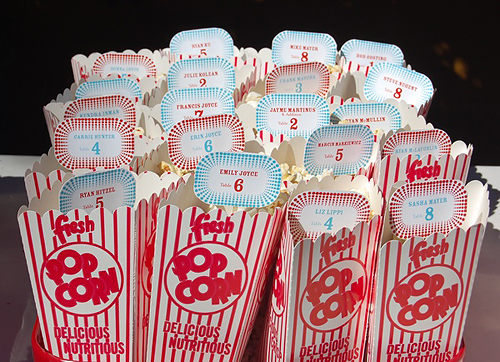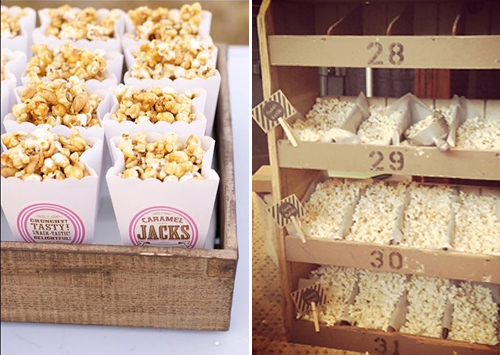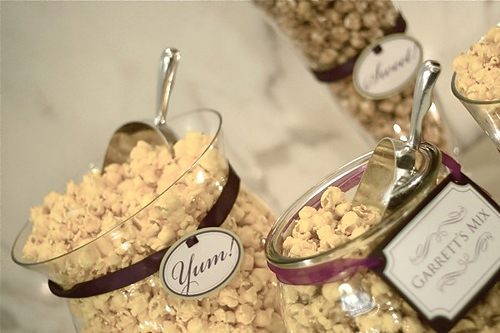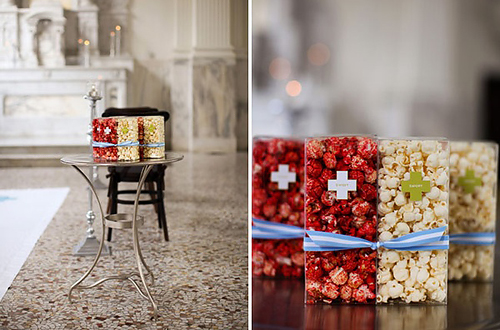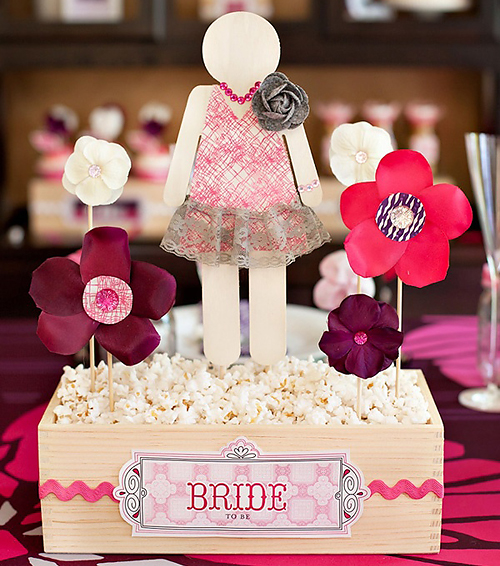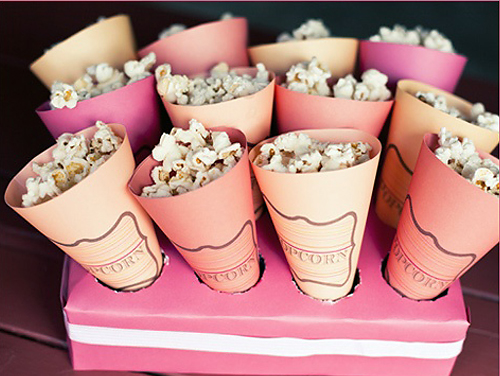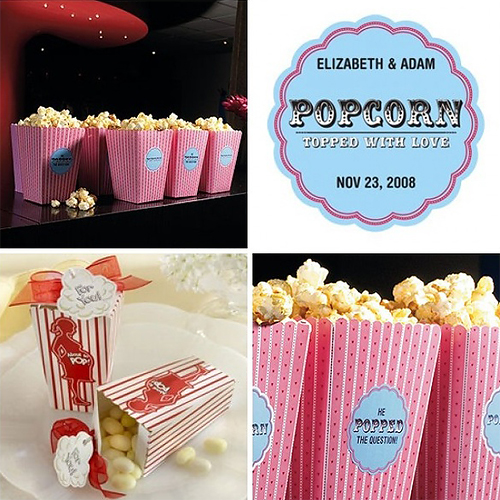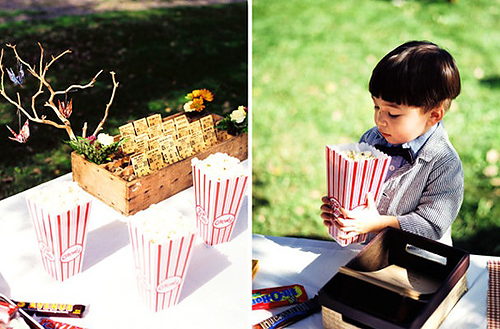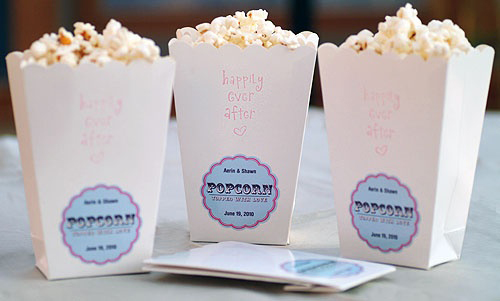 We couldn't help throwing this one in!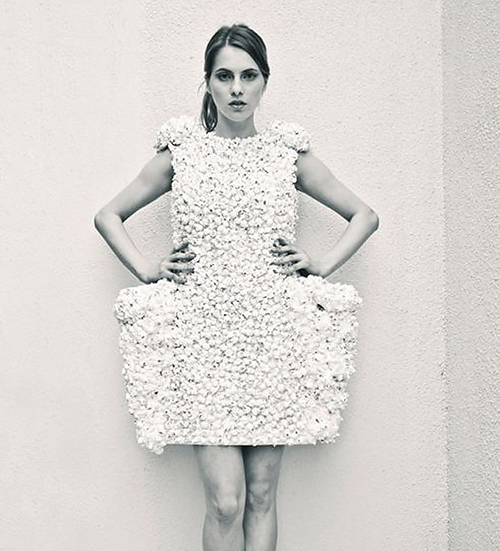 For more ideas on how to use popcorn at your wedding, make sure to keep an eye on our Popcorn Pinterest board!