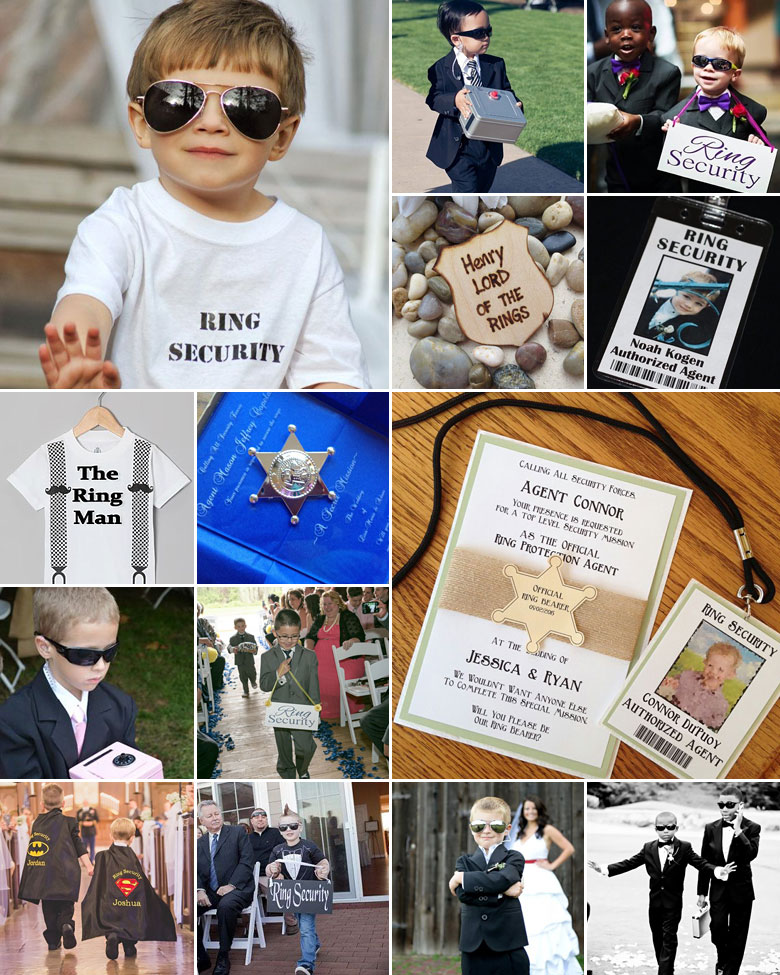 The ring bearer has one of the most important jobs of all and the last thing you want to be worried about while walking down the aisle is whether or not the little guy has lost those valuable wedding bands.
By treating him more like a mini security guard, you're guaranteed that the little man will take his job extra seriously. What's more, the rings can be placed in a safe locked box and the whole "security" element also adds an element of quirkiness charm to the ceremony.
Here are a couple of ways to get him into character:
Have a sign printed with "ring security" which your ring bearer can carry down the aisle.
Go all out and buy him a pair of dark sunglasses so he looks the part of a mini security guard.
Instead of a ring cushion, place the rings in a silver briefcase or padlocked money box.
Have a jacket or shirt made especially for the wedding day, emblazoned with "security" on the back.
Give him a two-way radio (Walky-Talky) so that the best man can stay in touch with him and keep track of his every move.
To keep those rings extra secure, have a ring bearer flanked by two groomsmen, also dressed up like security guards.
Print a VIP pass which your little security guard can hang around his neck, giving him exclusive access to something like milkshakes at the bar – a lovely thank you gesture!
Original images and their credits available on Pinterest