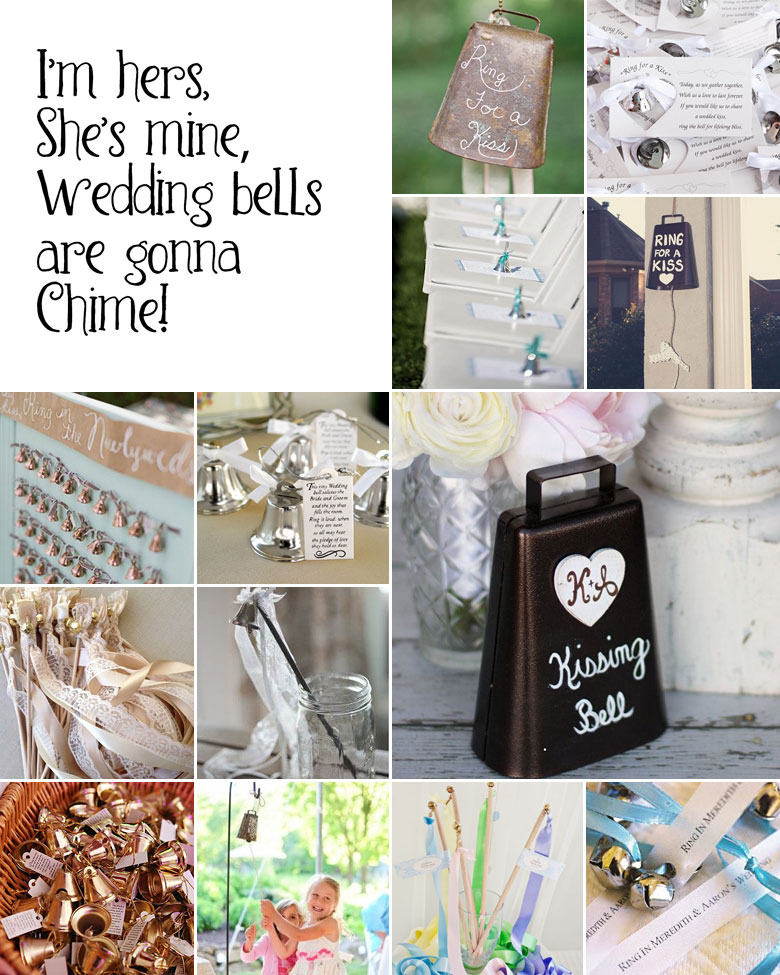 Aside from the wedding bells that are already chiming in your head, incorporating cutesy bells into the look and feel of your big day certainly sets the scene for a magical fairy-tale affair. Whether it's oversized cowbells, rusty hand bells or tiny silver bells no bigger than your pinky nail – you can't go wrong:
Attach bells to dowel sticks and have guests ring these instead of scattering confetti over your heads – eco-friendly and lovely, especially if you're having a wedding video made.
Place bells on the various guest tables labeled "ring for a kiss/toast/dance" so that guests have some input into how the reception runs.
Decorate the wedding arch with bells and also line the wedding path to the altar with bells on shepherd's hooks.
Give each of the bridesmaids or flower girls a cutesy hand bell to ring while walking down the aisle, announcing your arrival.
Decorate your wedding invitations, save-the-dates and other stationery elements with little bells to signify the "wedding bells" that are about to ring.
Hang plenty of bells outside – in the trees and over the balconies – to ring in the wind while you dance into the night.
Decorate the venue with glittering bells, hanging them from the rafters and chandeliers.
Add a little tinkle-tinkle to your own bridal ensemble by attaching a bell or three to your bouquet or opting for bell-inspired wedding jewellery.
Attach each guest's place card to a bell to further complement the theme.
Original images and their credits available on Pinterest