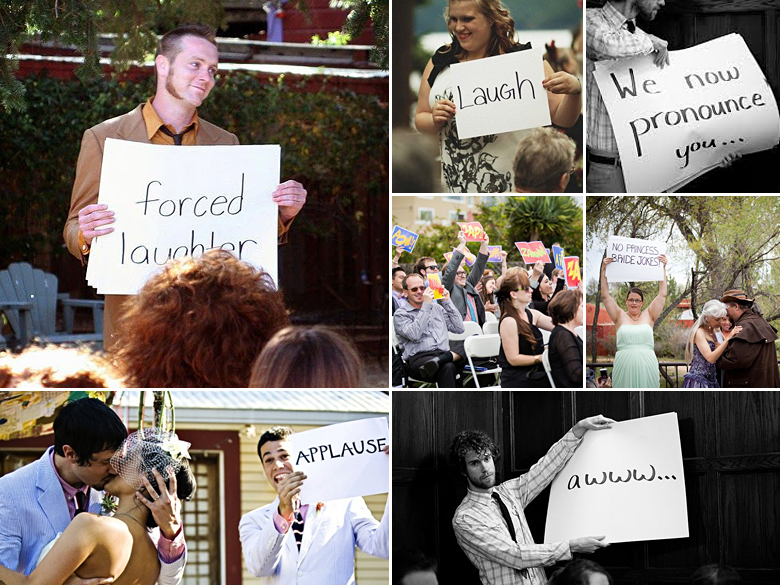 We've all seen it on TV, not to mention those cheesy 70s movies – the quirky little runner holding oversized cue cards instructing the audience to "laugh!", "clap!" or go "awww". And, if anything, it certainly evokes a giggle or twelve!
Audience cue cards are an excellent way to keep your guests involved and entertained, especially during long speeches that might not otherwise be of much interest to them. While you can have it printed to match other stationery elements, it can be as simple as writing the lines out on A3 sheets of paper.
Here are a couple of ways to use cue cards effectively:
Provide your master of ceremonies with cue cards, tailored to your speeches, to present during it.
Have the master of ceremonies come up with a selection of cue cards to hold up during the toasts and announcements.
Have the minister hold up an "awww" cue card when it's time for hubby to kiss the bride.
Add an extra cute factor by having your flower girl or ring bearer hold up the cue cards. This also gives them a "purpose" at the reception so as to keep them out of trouble.
Place blackboard cue cards on the various guest tables which guests can use to instruct you to do things like kiss, dance or make a toast.
Make your first dance as a couple more interesting by giving guests cue cards with words like "twirl" and "dip" written on it.
Original images and their credits available on Pinterest