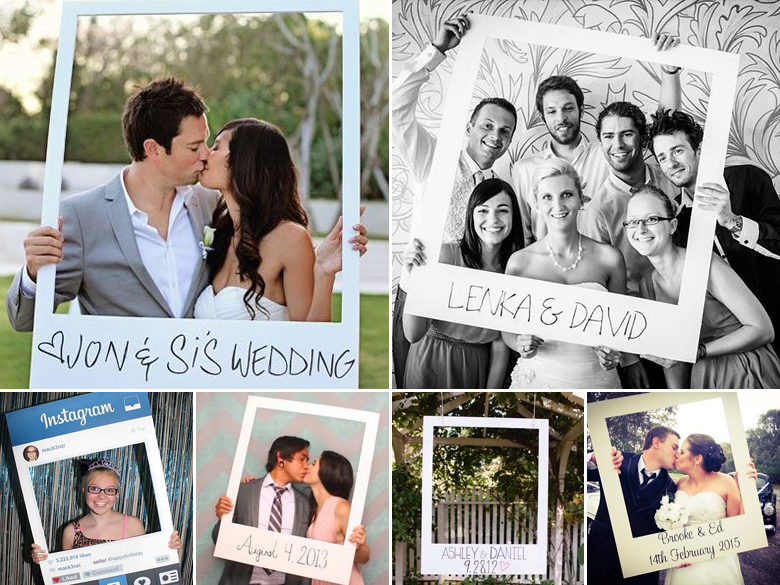 This striking photo frame puts a whole new spin on the photo booth. The idea behind the frame is to encourage guests to snap their own pictures and upload it to social media sites using your wedding hashtag. While you can go as big or small as you want to, it's important to remember that if the frame is too big, it might become floppy and cumbersome, and even break when handled.
You will need:
Heavy duty cardboard approximately 1m x 1m
10cm high vinyl lettering or printed letters (that you've cut out) spelling out your hashtag
Glue
Craft blade or carpet knife
Long metal ruler
Pencil
Now to get started:
Lay down the cardboard on a large flat surface.
Using ruler and pencil, measure out a 20cm frame around the edge of the cardboard and make pencil markings right around. Connect the dots and draw your lines.
Using ruler and craft knife, cut along the lines and remove the inner square – you now have your frame.
Next, take the inner square that you've removed from the frame and make marks at 15cm from each of the corners. Connect the two dots on each corner to make a triangle – then cut along the line.
Use these corners to add support to your frame's corners by gluing it to each corner on the back of the frame.
Finally, start decorating your frame with your wedding hashtag lettering, as well as any other embellishments your heart desires.
Original images and their credits available on Pinterest