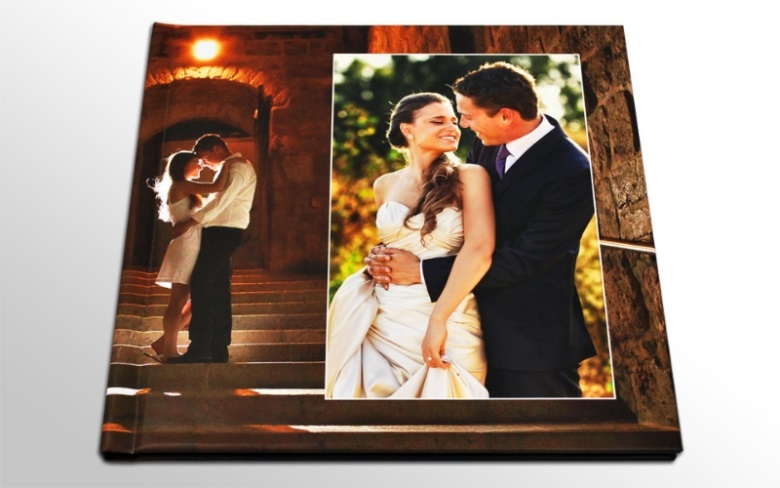 In recent years, weddings have become more about you, as the couple (your tastes, likes, dislikes and desires), and less about incorporating the traditional wedding elements into your big day. Every aspect of your wedding offers the opportunity for using unique, personalised ways of incorporating your identities, rather than simply resorting to what is expected. Wedding albums are no different. Couples are being encouraged to be innovative and creative when putting their wedding album together, so that it is meaningful and special for them, not merely living up to the expectations of others.
The following suggestions are just a few novel options:
Guest Signing Book
Have a pre-wedding photo shoot and then compile these into an album. Include lots of white areas in which wedding guests can leave their messages during the course of your reception. This is a very special keepsake as each of the valued guests that made an effort to attend your celebration can leave a personal, heartfelt message. The photographs can be those of you as a couple, just having fun (in a park or around town), or formal engagement photographs.
Photo Story Book Wedding Album
Tell the story of your wedding day, from beginning to end, in a series of gorgeous photographs. This requires very clear two-way communication with your photographer so that he or she understands your requirements and can ensure that they have all of the images necessary to convey the mood and progression of your big day. Include a combination of black & white, colour and sepia photographs, and try to make them as personal as possible, so that the true ambience and emotions of the day are imparted through images. The quality of the paper and the style of the album will also play a large role in conveying the look and feel. For example, a glamorous, modern wedding may be more appropriate on "magazine" paper, while a couple that focused on environmentally responsible products and services may rather opt for recycled paper and a more natural look. Adding fabrics, metals and leathers will go a long way in adding an extra dimension to your album.
Celebrity Autograph Album
Make your guests feel as glamorous as you do by compiling an autograph album. Have one or more photographs of each guest and a place next to it in which they should write a personal message. This will make them feel extra special, as you have made an effort to include them in your celebrations in such a major way, and will help you to remember all of the special family and friends that were there on this day.
Guest Pages
Include a photograph with place to write a message in each wedding invitation. Ask your guests to write their personal note to you on there and bring it to your reception. After your big day, compile these into an album. The photographs can be of you, as a couple, of the guest to whom you sent the invite or of memorable times with family and friends.
Photo Credit: www.bridebox.com