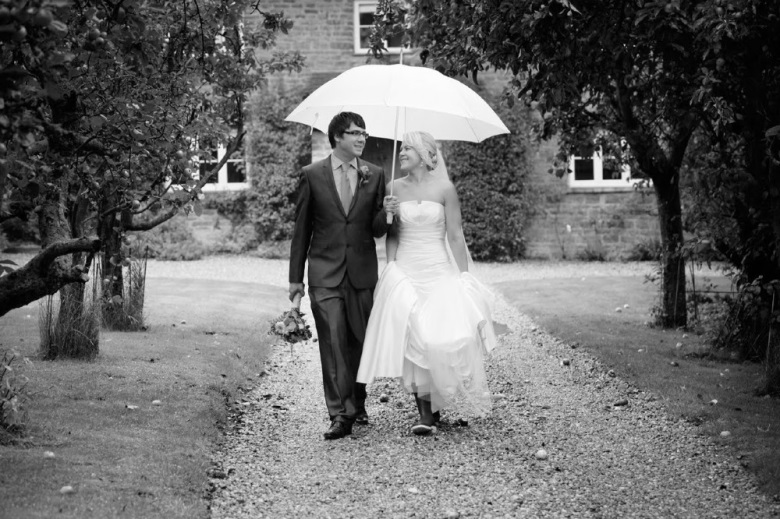 Waking up to torrential downpours on her wedding day would make even the most resilient of brides-to-be feel a streak of panic run through her spine. However, there are a few important factors that you will need to remember if you happen to be this particular terror-stricken bride. First, there is nothing you can do to stop the rain. No amount of begging, pleading, crying or ritual dancing is going to help. Second, there is the vague possibility that it will abate during the day and you should hold onto that hope with a realistic sense of optimism. Third, rainy days are usually quite romantic, spent snuggling up together and drinking hot chocolate, so remember that it may actually help you to introduce some extra romance into the affair. Finally, there is absolutely nothing you can do about the rain. So, learn to make the most of it.
Although most of the wedding should not be too negatively affected by the rain, you will likely be most concerned about your photographs. However, by communicating well with your photographer well ahead of the event and by discussing possible back-up plans for the rain, this issue can also be controlled.
The rain provides interesting lighting opportunities and usually leaves the air clean and fresh. These factors combine to create a backdrop of newness (metaphorically referring to your new life together) and give the photographer a chance to experiment with lighting, shiny surfaces, dulled landscapes and effects that may not have worked in the sunshine. In addition, being in the rain gives you, as a couple or individual, the chance to play with various props, such as an umbrella, wellingtons, a floppy waterproof hat, blankets, and so on. It also encourages the two of you to get closer together, huddling under an arch or snuggling in the backseat of your car as you wait for a break in the downpour and the photographer snaps away.
Here are some great photograph ideas to incorporate the rain into your wedding pictures:
Don wellingtons and splash around in the puddles with your partner, bridesmaids, groomsmen or alone.
Tiptoe around puddles with your dress hitched above your knees, followed by your bridesmaids doing the same thing for a fun, flirty picture.
Have the groom and his groomsmen being chivalrous as they escort the ladies through the rain, holding their jackets over the girls' heads to protect them from getting wet.
Capture the bride and groom under one umbrella, scowling at the rain in playful annoyance.
Let raindrops settle on the bridal bouquet and have a close-up shot of this natural beauty.
Kiss or dance with your new spouse in the rain.
Of course, there are some risks involved. Make-up could run, hair could frizz, dresses could get muddy. So, make plans to rectify these by packing an emergency kit of make-up, hairspray, clips, wet wipes and so on. The most important contributing factor to successful wedding shots is that both of you look happy, relaxed and in love.
Photo Credit: www.rachel-rose-photography.co.uk