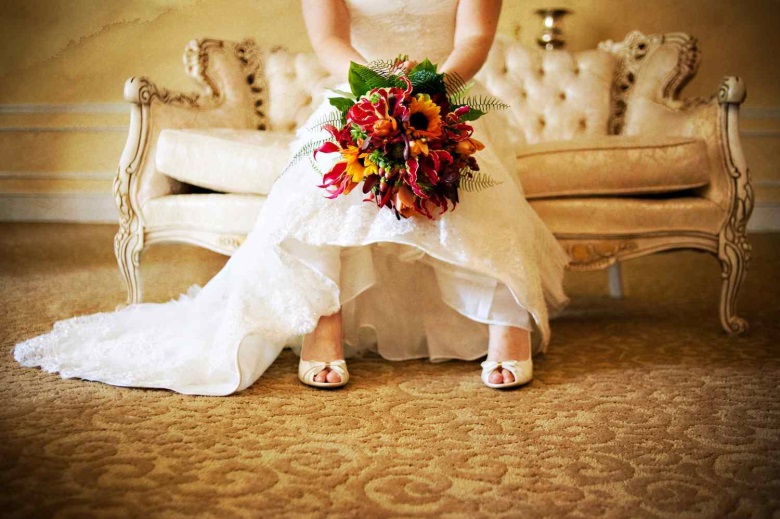 Using a house as the location for your wedding photographs presents the bridal couple with many different options, increased flexibility and (usually) a cost-effective site. The different rooms, internal and external structure, location and décor of the home you choose will become the third character in your photos, adding much to the ambience, look and feel of your wedding pictures. For this reason, it is vital that you choose a house that reflects the theme or ambience of your wedding day. If your theme was "fairytale romance", for example, a house in the woods, or one filled with enchanting pieces and magical finishings would be ideal. On the other hand, a seaside holiday home may be better for the couple that introduced beach elements into the décor and colours of their wedding day. In this way, the photographs (and, therefore, your memories of the day) are complemented and enhanced by their backdrop.
Some examples of how to use the rooms of a house effectively include:
Kitchen
The kitchen is the heart of many homes. It holds promises of family gatherings, romantic dinners and experiments with new flavours and recipes. There are also many negative clichés around the role of a new wife and her being bound to the kitchen. So, photographs that take a humorous approach to such traditional pessimisms introduce fun and humour to the event. Some great ideas are to have the bride allowing her groom to sample one of her creations as she lovingly feeds him off a wooden mixing spoon, or to place him at a sink full of dishes while she lazily sits at the kitchen table reading a newspaper or finishing her crossword.
Bathroom
The bathroom of many homes represents a luxurious retreat for the busy housewife. Play on this image by filling the tub with rose petals, bubbles or candles and placing your bride and/or groom on its rim, as they playfully trail their fingers through the water. Alternatively, place them in front of the 'His and Hers' basins as he shaves his face and she brushes her teeth.
Dining Room
Couples seldom use their dining room unless they have guests to entertain. So, this room has an air of fun as it evokes memories of family occasions and hours spent laughing with friends over a meal. A fully set table with crystal glasses, china plates and umpteen sets of cutlery is a classic backdrop against which the bridal couple can 'enjoy' their first meal together over candlelight. Alternatively, create some passion as the bride sits on the table while the groom 'savours' some tender neck kisses or simply embraces her.
Workshop / Garage
Using this area is particularly effective if the groom is keen on DIY or working on vehicles as it will bring his passion into the picture. Some ideas include him lying under a vintage car while she hands him a giant wrench, her knocking nails into the wall as he sits against the wall enjoying his coffee or the two of them carrying a large, finished 'product' out of the workshop proudly.
These are just some examples of how a house can be transformed into the ideal set for a fantastic wedding photo shoot. Speak to your photographer long in advance about how you envision your photographs coming out and the message you would like to convey (romance, humour, fun, passion, etc…) and take a trip to the house to get a good feel of the outlay and photo opportunities. Such preparation will ensure that you use each room and opportunity to its full potential.
Photo Credit: www.ramsheadinn.com