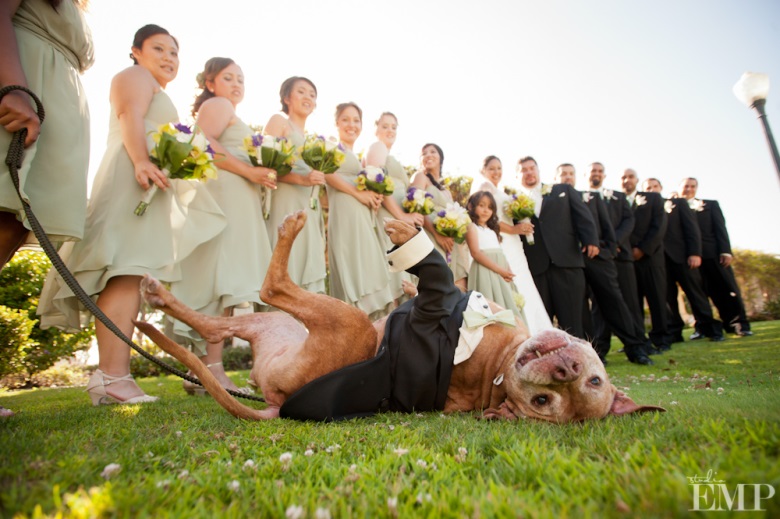 Your wedding photographs are there to reveal your personalities and passions as well as to be important mementoes of this most special day. Therefore, many brides- and grooms-to-be have expressed the wish to include animals in their photographs because of their love for them. Using animals in wedding photographs can be achieved very successfully and with taste, but can also look very strange if done incorrectly. If you decide to go this route, make sure that your photographer has worked with animals before and that he or she has a professional portfolio that includes wedding pictures with animals.
Wild animals represent nature and the earth. Therefore, they can be used in a very intimate wedding shoot where the bride and groom are, either partly or completely, nude to create a sense of the untouched. These animals can be real for a dramatic effect or toy animals for a more humorous effect. For example, a topless bride may cradle a puppy across her chest so that her shoulders are exposed, but the puppy hides her bare breasts.
Horses are elegant and have always held an identity of high esteem amongst the upper societies. Using horses in your wedding photographs adds class to any picture. The bride, groom or couple can walk amongst these gorgeous beasts, ride them, sit on them or admire them from a distance. This option is even better if one or both the bride and groom have a history with horses. For a more dynamic picture, the bride should gallop on a powerful horse with her wedding dress pulled above her knees and her veil blowing in the wind.
For couples with a tendency towards the mystical or dramatic, use a snake or a stunning bird of prey as the live 'prop' in your photographs. A bride with dark eyes, black nail polish and a long boa constrictor draped over her shoulders promises a mysterious beauty that is both intriguing and a little unnerving. Visit a sanctuary for vultures, hawks or eagles and get assistance from the trained personnel to capture striking pictures of you interacting with these magnificent avian species.
Elephant back safaris are very popular amongst tourists, particularly in South Africa and India. The elephant represents all things majestic, beautiful, intriguing and intuitive about the animal kingdom. They guarantee that your photos will exude an undeniable sense of beauty. Ride through the countryside on one of these gentle giants, feed them, play with them or walk across the landscape with them.
Visit the local zoo in your wedding attire and have fun as the photographer takes candid photographs of the two of you as you play with monkeys, feed Llamas out of your hands or get splashed by playful seals. The key is to relax, be imaginative and innovative. This works especially well if one or both of you works with animals as a secular career.
Using your pets in the photographs is not as easy and impressive as wildlife. Your overweight Cocker Spaniel may be beautiful to you, but may not be the ideal complement to your wedding dress and the look and feel of the day. The key here is to reflect the character of your dog, cat, bird or mouse in the pictures. Embrace the fact that it is old, fat or blind. Perform an everyday task with it so that it is comfortable and can express its character freely. For example, sit on an elegant couch and just allow your cat to make itself comfortable as you and your partner pose.
Your wedding photographs provide memories of this big day and reawaken the warmth and passion between you. For this reason, it is very important that they are in good taste and reminiscent of the ambience and romance of the day.
Photo Credit: snapknot.com