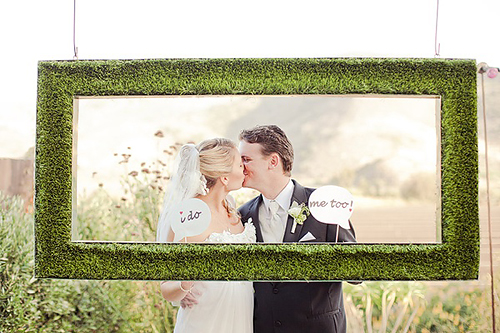 Theme weddings can be oodles of fun but getting guests in the right mood can be quite tricky, especially if the guest list spans a few generations. Photo booths are the perfect little ice breaker and the quirky props and gadgets have proven to have some kind of magical capability, giving guests that little boost of confidence to let their hair all the way down (even if they don't have any!).
You don't need a degree in photography to set up your own photo booth, all you need is:
A digital camera
A sharp-eyed friend to play photographer for an hour or two
A secluded corner that's out of plain sight (where guests can really go all out without feeling silly)
Costumes and props
A magical backdrop
Now, the options are literally as endless as the memory of your camera's card. Preferably you'd like to stick to something that complements your wedding theme, simply taking it to a more interactive level. So let's have a little brainstorm session, shall we?
You simply can't go wrong with a couch. Whether it be a luminous retro couch, stylish chaise longue or a romantic vintage sofa, guests are sure to get comfy and a little bit wacky between the cushions. Which reminds us – be sure to add a variety of scatter cushions to the scene and see what guests get up to.
Scour vintage and antique shops for a variety of odd and mismatched picture frames for guests to peak through. If you want to go all out and even create a "frame feature wall", turning your guests into living paintings.
Crazy, quirky and random words on sticks go well with just about any theme. Think words like 'Hooray!', 'You don't say', 'Awesome', 'Groovy baby', 'I do too' and any words that could add a quirky subtext to the pictures.
If you can't get your hands on a real vintage polaroid camera, create your very own life-size polaroid picture frame out of hardboard or foamalite for guests to pose behind.
Snip moustaches, lips, bow ties, eyebrows and Charlie Chaplin glasses out of paper and mount them on skewers for endless gigglesome moments.
Supply your guests with bulky sponge, wooden or perspex letters to spell out their thoughts, or in case their thoughts are just too mad and out there to be summed up in a single word, little black boards should do the trick.
Create an enchanted forest scene using natural elements like flowers, branches, feathers, large potted trees and fairy lights.
If your wedding theme is based on a certain era, theme your photo booth accordingly – feather boas and top hats straight out of the 40s or bright jackets, glasses and wigs to transport guests back to the hippie era.
Fill up an old chest with an assortment of hats – every single big, funky, small, dainty, vintage, old school, laughable hat that you can possibly lay your hands on.
If you're a bit torn between various themes and costumes, let your guests decide! Collect a variety of odds and ends like scarves, bowties, wigs, glasses, tiaras, bunny ears and any other props that are easy to put on and take off in a jiffy.
Go oriental with Chinese umbrellas, fans and lanterns, or any other country of choice.
Interactive elements like sparklers and bubbles add a whimsical dimension to the pictures and are sure to bring out the child in even your great grandmother.
If you're opting for an outdoor photo booth, incorporate a mode of vintage or rustic transport – an old fashioned bicycle or a tractor decorated with flowers and bows even.
For a more romantic and magical photo booth, hang a mosquito net and fairy lights over a simple love seat – just perfect for an outdoor evening wedding!
Create a carnival booth using hay bales and bunting and supply guests with cute props like bowler hats and braces to get the barrel rolling.
Recreate the Mad Hatter's tea party from Alice in Wonderland using an array of crazy hats, mismatched chairs, playing cards, clocks and tea time crockery.
If ever you wanted to break away from the traditional broomstick family photos of the previous century, photo booths are most certainly the way to go!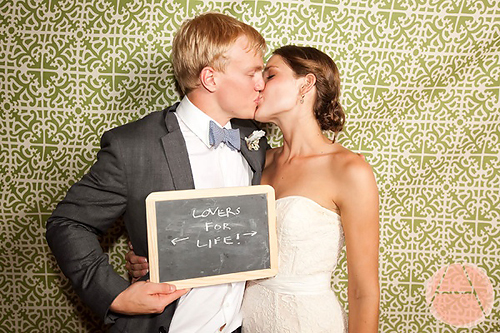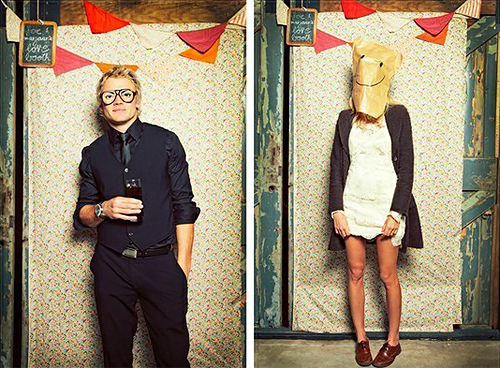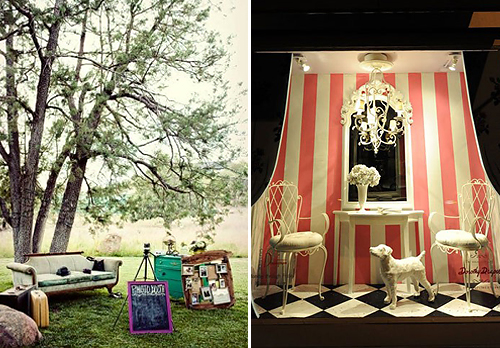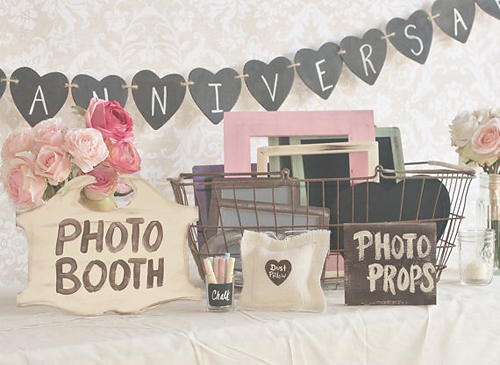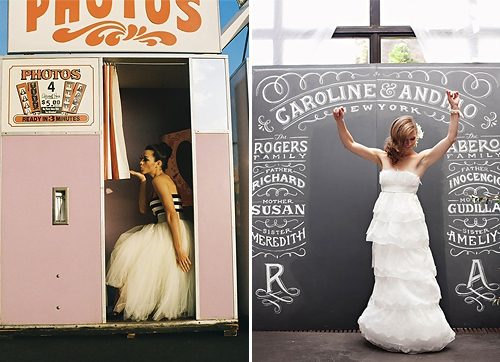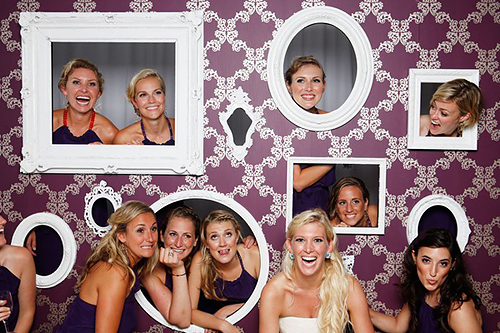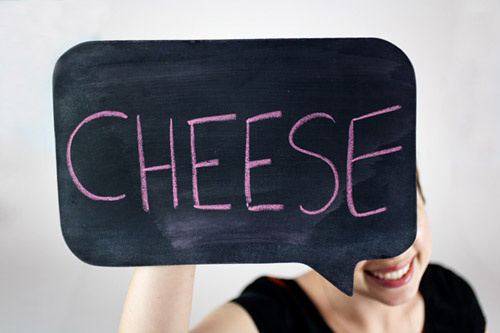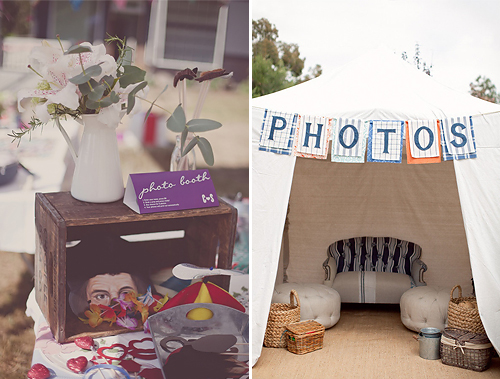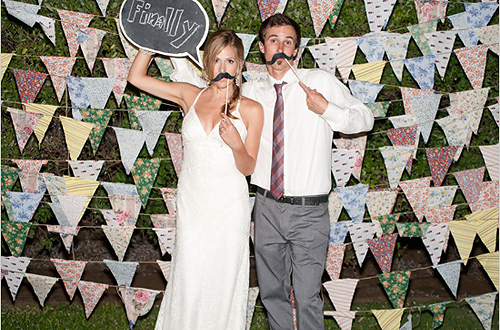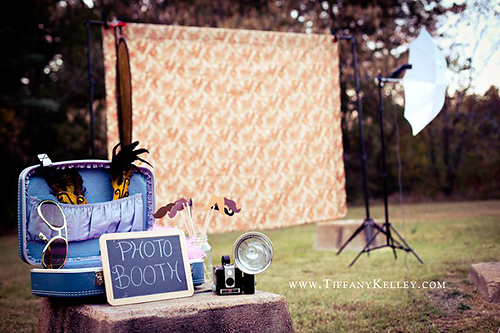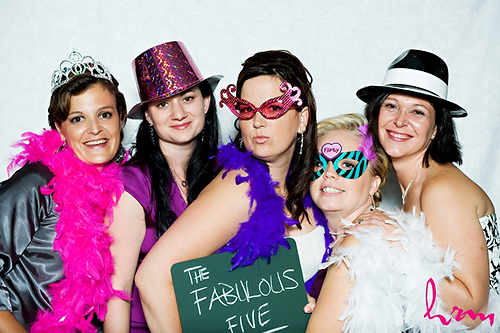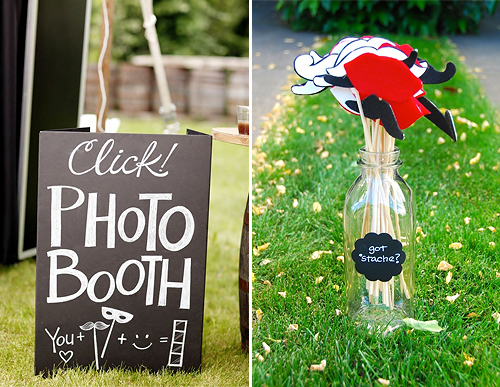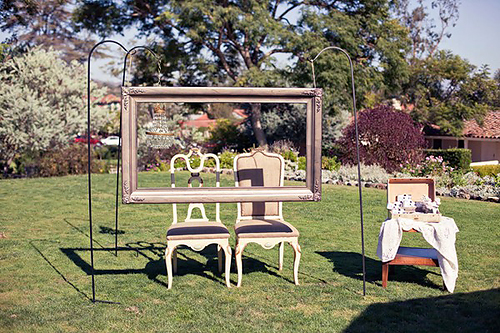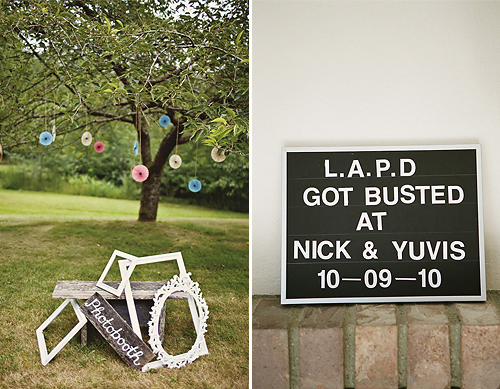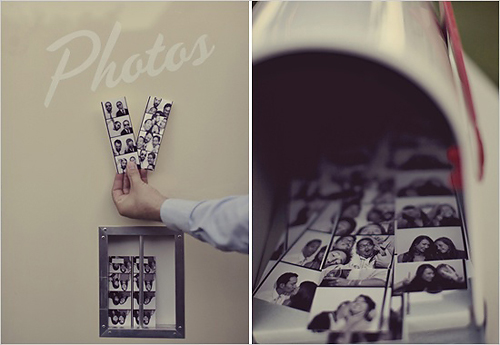 For more ideas on Wedding Photo Booth Ideas or to check out the original photos displayed above and their credits, make sure to check out our Wedding Photo Booth Ideas Pinterest board!