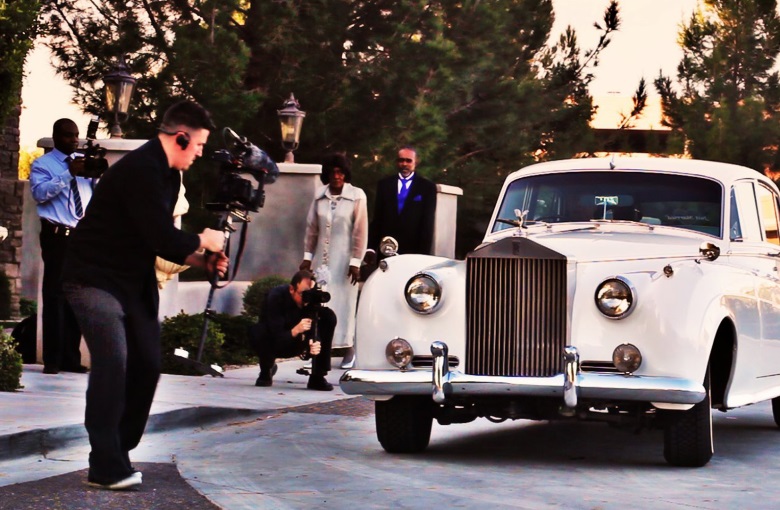 It is often thought that every girl from a tender age has a fantasy and a grand plan for her fairytale wedding. There may be budgetary constraints, but in all seriousness, the grand plan will basically change very little. It is the Videographer and the Photographer's function to record those Dreams for posterity with images that can be enjoyed, irritation free for the rest of the Couple's lives. Price should not be the measure of your choice, but QUALITY and value for money!
Here are a few tips on choosing your wedding videographer:
Personality plays a very important role in the success of the Video, the couple must be comfortable in their company. Some videographers offer a pre-shoot, so if either of you are shy and tense before the camera, ask if you feel you need this. (It does give us an opportunity to get to know you better).
Is there one person, or a team of two? One person cannot be in two places at the same time, therefore he/she inevitably will miss some parts of the Wedding. Two or more people will be able to shoot all the action,and record a full flowing story of your day.
It is important to have a woman involved, as they invariably will pay more attention to minute detail, and the Bride will certainly be more comfortable during the dressing.
Make an appointment, to visit their studio, and if possible get them to show you a DVD of a wedding at your venue. If that is not possible view something similar, not a highlights package, but a copy of what the bride got.
View as many as you like, and check for sound quality, especially an outside wedding. Check the quality and clarity of the picture, and of the editing, is it smooth and flowing, or do the scene changes jolt you? Are people wandering about in front of the camera, e.g. the photographer, or have they been covered with suitably appropriate inserts? Does the picture continually zoom in and out, and are the subjects framed correctly (Rule of Thirds)?
Enquire what equipment they use for filming and editing. Is it up to date?
Are they professional in their demeanour, and un-rattled when things go awry? Are they prepared to go the extra mile to create a first class production? Are they unobtrusive or do they take over the proceedings?
Do they use excessive lighting in the Church and/or Reception? Get references if you are at all unsure.
Do the people you hire actually do the filming and editing, or do they subcontract any of it out?
Ask how long after the wedding will the before the final Video will be ready.
Do they have competent backup in the event of illness or incapacity?
Remember you need to include them at your reception, with a place to sit, and importantly, from where they can see the action. As they will be with you and concentrating for about ten hours, something to eat and drink is essential for their well being.
Remember, we usually have only one chance to get it right. "Kykweers" (retakes) are invariably disruptive. Experienced Videographers will make the best out of any given situation, not panic, and coolly proceed to do an excellent job for you, the Bridal Couple.
Are they accredited by any reputable organization such as the Digital Video Association of South Africa? You can check this at www.dvasa.org. This is like an "SABS" (Bureau of Standards) of Videography, and has a strict Code of Conduct guaranteeing a high degree of professionalism, as the accreditation criteria are very stringent.
The DVASA will also arbitrate in the unlikely event of any dispute.
Enquire whether they have a top notch Photographer with whom they work often and have a rapport. Remember that the Videographers and the Photographer must work together as a TEAM, and will never recommend a Photographer who is incompetent, jumps around, and is obtrusive. Competent Videographers will however work with most Photographers, and bear in mind that the more inventive and imaginative the Photographer is, the more exciting the Video will be.
You cannot book your Videographer & Photographer too early, so, once you have selected the TEAM you want, pay your deposit, thereby booking them, and take the Video and Photographs off your worry list!
Photo Credit: thelittlewhitedress.ca