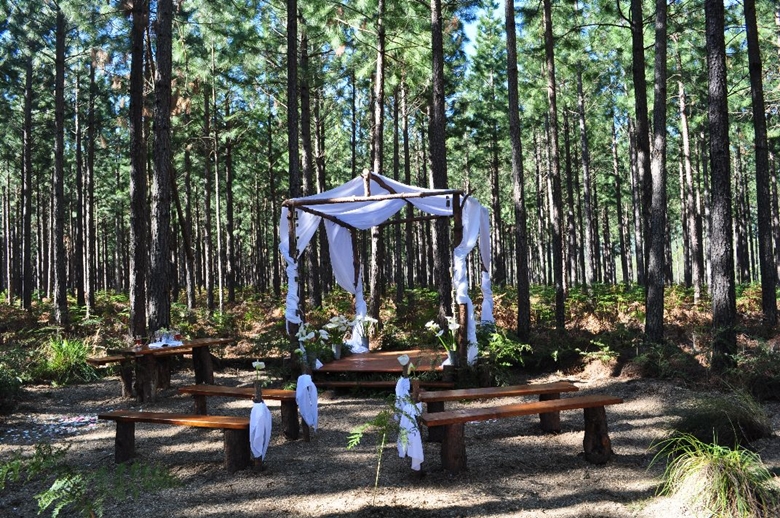 When choosing an outdoor wedding venue, South Africa offers an abundance of beautiful and unique locations. Getting married in a forest is simultaneously charming and elegant, magical and glamorous. In addition, it makes your wedding more memorable for both you (as a couple) and your wedding guests, who are treated to an unusual celebration of love.
If you have chosen to have your ceremony, reception or both in a forest, it is vital that you work with the beautiful natural surrounds, rather than trying to compete. Therefore, it is wise to use natural materials in your décor. These elements can range from your bouquet and table decorations to your flooring and guest favours. Use wood, twigs, leaves, flowers, grasses, feathers or quills, for example.
In terms of your colour themes, steer clear of very bold colours that are in stark contrast to the subdued hues of the trees, ferns and wooded vegetation around you. So, rather than having intense reds and purples, for example, rather stick to colours that occur in nature. These could include the pastel colours of winter, the vibrant blooms of spring or the rusty colours of autumn. Glamorous touches can be introduced with the use of brushed golds and bronzes or sturdy pewter. If your wedding is going to be held during the day, there should be plenty of natural light. However, night-time weddings will be perfectly set off by the warm glow of candles or lanterns dotted around on tables or strung up in the trees.
Your menu should reflect your venue too. If the forest in which you are celebrating is cool and damp, opt for hot, comforting dishes that smack of flavour and intensity. If your venue is hot and humid, rather offer guests fresh, raw ingredients (such as salads and crunchy vegetables).
Incorporating the forest into your wedding attire does not mean not having the big, white dress of your dreams. Rather, your accessories (such as your bouquet and headpiece) can take full advantage of the earthy materials around you. In addition, the groom's suit may be made out of more natural fabrics (such as hemp or linen) and your wedding parties' clothing can be far more fun and natural. Dress your flower girl and ring bearer as bees or butterflies for a childlike way of introducing the environment.
Use the gorgeous surrounds to create the idyllic backdrops for your photographs. The lush greenery will add a very special dimension to even the most traditional of shots and your photographer will have ample room in which to experiment. Be adventurous and innovative, encouraging the groomsmen to climb trees, the bridesmaids to pick flowers (if permissible) and so on.
Many forest-bound wedding venues offer the bridal couple nearby accommodation as part of a bridal package. A honeymoon suite amongst the splendour of dense woods, natural water features and the sounds of the local fauna is certainly the perfect way to start your new life as man and wife. In addition, there will likely be hikes, walks and other activities in the nearby vicinity, so that you are assured of fun activities during your stay.
An added advantage to having a forest wedding is that it creates a memorable experience for your wedding guests as well. This will ensure that your wedding will always remain in their minds and hearts as being extra special.
See the following websites for some of South Africa's gorgeous forest retreats:
http://www.sa-venues.com/game-reserves/kzn_mkhomazi.htm
http://www.phantomforest.com/
http://www.forest44.co.za/
http://mpumalanga.lodgeguide.co.za/Mpumalanga_Country_Hotels-travel/mpumalanga-country-hotel-serenity-luxury-forest.html
Photo Credit: iweddingfavorz.com