Wedding Cakes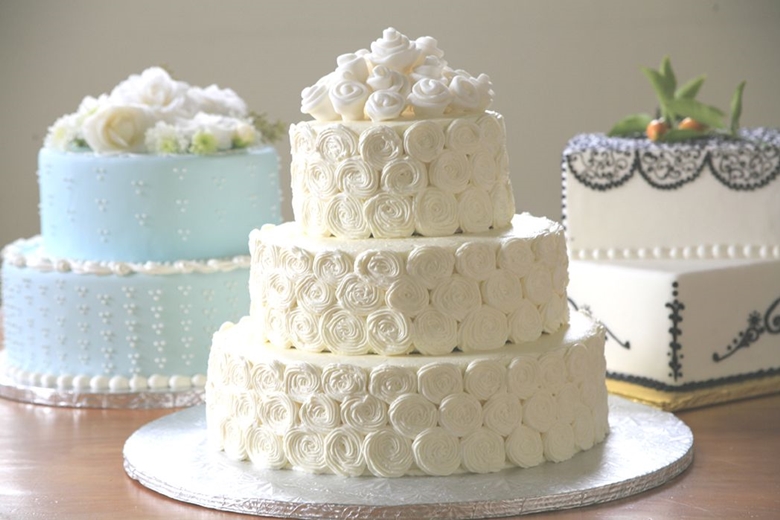 The wedding cake has, in recent years, enjoyed an increased focus, which has allowed bridal couples to be more creative and innovative in the flavours, styles and colours that they choose for their cake. A traditional cake used to be considered to be a fruit cake with white icing, marzipan and delicate decorations. Today, though, cakes can be black, white or hot pink, dotty, striped or in the shape of a giant love heart. This makes the cake a feature, rather than an expected detail of the day. Some fun and / or inexpensive options are:
Pastries – present a range of sweet pastries such as mini Chelsea buns, apple tartlets, almond cups etc… on a stylish tray or three-tiered stand for a less formal, less costly alternative. This also allows guests to pick their favourite, instead of having to assume that everyone enjoys a chocolate cake, for example.
Pavlovas – a Pavlova looks attractive as long as there are colourful fruits drenched in a rich syrup and topped with cream. Individual Pavlovas can be home-made to save on costs and are enjoyed by the majority of folk. In addition, they are lighter than cakes and less rich than most mousses.
Cupcakes – while these have also become fairly traditional, they really are an easy, cheaper way of presenting the wedding cake. This is because they are made from a basic sponge and can be produced in large quantities. Also, they do not allow for detailed decorations, making them less expensive. In fact, the bride may rope friends and family into baking these for an extra budget-cut.
Pettit fours – these sweet little treats are gorgeous when laid on a platter or stand. Pastel colours and intricate decorations make them perfect for country-style or spring weddings. They are also tasteful and can save on costs.
Meringues – using the soft shades of meringues can create a very effective feature. Themed weddings may have meringues shaped in hearts, flowers, bees, butterflies, etc… while others may just use a swirled meringue with chocolate zig-zags. These are very cost-effective to make or buy, stay fresh for a long time and are light.
Alcoholic shooters – if you are not a traditional couple and your wedding will have a theme of fun, dancing and vibrancy, consider replacing any eats with a stand of colourful and interesting shooters in tasteful shot glasses. There can be non-alcoholic versions available for guests that do not enjoy alcohol, which can be equally fun and attractive to look at.
Milkshakes – mini chocolate, strawberry, Horlicks and lime shakes in antique glasses use pastel colours in a tasty alternative to cake. In addition, they are cheap, easy and loved by all.
The cake need not adhere to the strict 'rules' of last century, but should reflect the personalities of the bride and groom and be in line with the ambience and theme of the wedding in order to be as effective and striking as possible.

Photo Credit: blog.dreamdayco.co.za