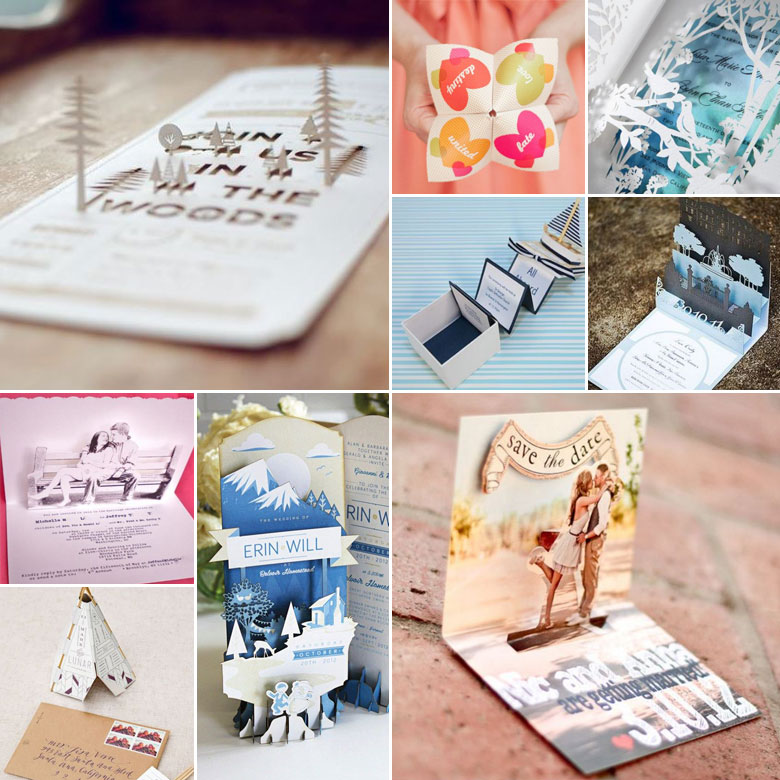 3D is a term we hear a lot of in this digital day and age, but today's post has nothing to do with technology (well, maybe a little if you consider the processes involved). This time around we're exploring the wonders of paper – the many sides, folds and colours of this simple but versatile stationery element.
The idea behind 3D invitations is literally to add another dimension to the guest's experience. The first way to do this would be to create pop-up invitations, where a 3D picture literally pops out as you open the card. Think of the cute pop-up books you used to own as a child!
The second option is to go the laser-cutting route, and stacking up different layers and colours of paper to create a 3D card, however this could be quite expensive. A less pricey way to add a third dimension to the guest's experience is to put a little surprise inside the invitation – for instance a handful of glitter or sequins could do the trick.
Another interesting way to make a 3D invitation is to create a fold-out leaflet that fits neatly in a box. Alternatively consider printing your invitation on a balloon which your guest can then blow up – it's interactive and it's 3D, although perhaps not in the conventional way.
Original images and their credits available on Pinterest