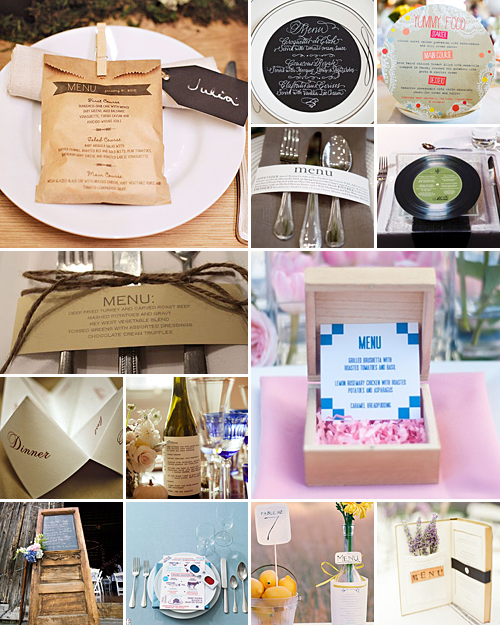 Menus are just one aspect of the stationery required for your wedding day. Other items include your invitations, programmes and place settings. It is important that all of these pieces of stationery complement one another and form a cohesive theme or style for your wedding day. However, the actual look and feel is completely up to you, as a couple. It will depend on your personal tastes, budget and preferences.
The average wedding can be boiled down to a series of expected norms. So, make sure that it is the added extras that make yours a wedding to remember. One of these little extras is your menu. By making this a unique feature, you will ensure that your wedding delights and intrigues at every turn.
Some ideas for your bespoke menu include:
Write the menu on a long, narrow strip of floral-print or coloured paper. Then, twirl it to form the shape of a rose. Apply a tiny dot of sealing wax to hold it in shape. Attach craft wire as a stem, and tie the person's name around the wire, so that this rose acts as both a place setting and a menu, once unravelled.
Create a pyramid-shaped card and write the starters, mains and desserts on the three different 'faces' of the pyramid.
For a retro look, print round stickers with your menu on them, and then use these in the centre of old LP's (in place of their sticker).
Print your menus onto boxes, using all 4 side panels. Then, print a personalised message on the lid, fill the box with goodies, and this doubles as a guest favour.
Create a menu wheel that allows guests to get interactive. This comprises of a wheel beneath a wheel, so that the content of the 'window' in the top wheel reflects the writing on the wheel beneath. To see what is on the menu, your guests will need to turn the wheel.
Original images and their credits available on Pinterest