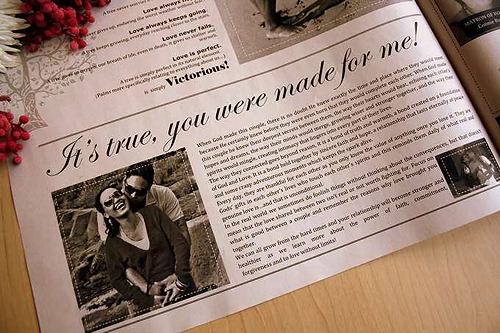 This is invite created by NewsFavor.com is not your average run-of-the-mill wedding invitation. Inspired by the true love and romance that they share, soon to be married couple, Dane and Bronwyn, chose to create a wedding invitation to match. Printed on quality newsprint, NewsFavor.com worked closely with the couple to create a one-of-a-kind wedding invitation, with 4 sides (2 pages) of A3-sized newsprint paper overflowing with their love story, Dane's inimitable proposal and special contributions from loved ones.
Love worthy of a front-page feature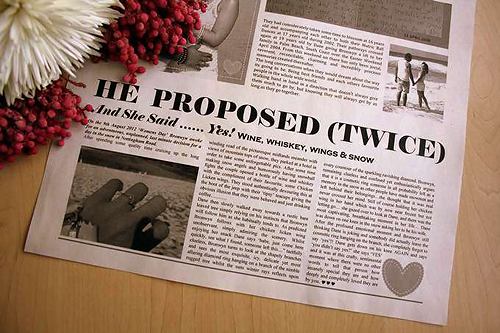 On the cover page of their love-filled newspaper wedding invitation, the sweet story of how Dane and Bronwyn met is shared in both pictures and words. Guests learn how fate brought the couple together, years after they had initially met. To follow, the humorous tale of how Dane proposed twice is revealed.
A poem inspired by love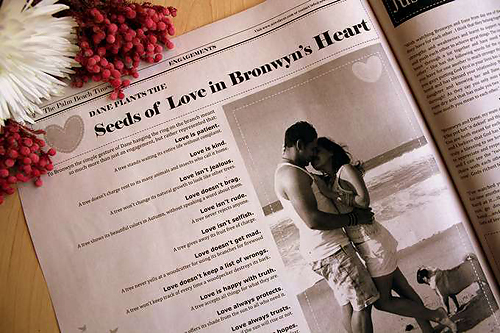 Bringing Bronwyn's words to life, the inside of their newspaper features a poem describing the special love that they share, which is a sweet sentiment that both the couple and their guests will cherish for several years to come.
Loved ones have their say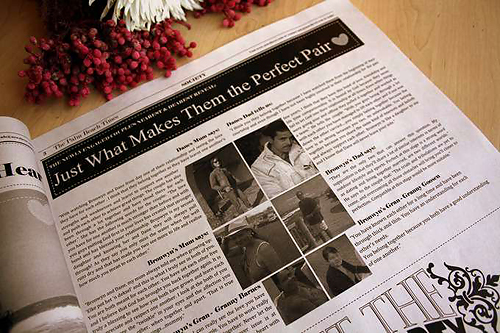 Paging further inside their newspaper, the couple's loved ones have their say with a few articles featuring their reasons why Dane and Bronwyn are meant to be together and what makes them the perfect pair.
Inclusion of a charming bridal party feature allows their guests to "meet the bridal party" by reading about those who will play an important role on the couple's special day! To ensure that their wedding is a weekend of celebrations, the couple also provided a few accommodation options for their guests to consider.
Invited guests can read all about it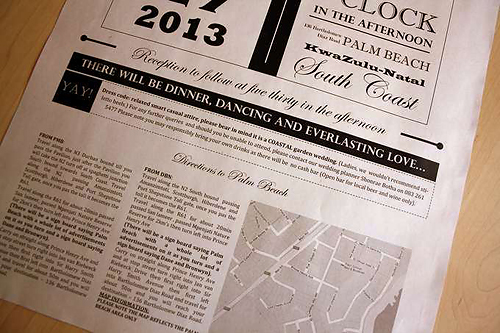 On the back page, an official invitation is laid out, designed in an elegant and modern style. The details of their wedding celebrations are presented wherein their invited wedding guests can read all about their impending nuptials, RSVP details and the suggested dress code. A useful map and directions is also included to guide guests along their way to the wedding venue.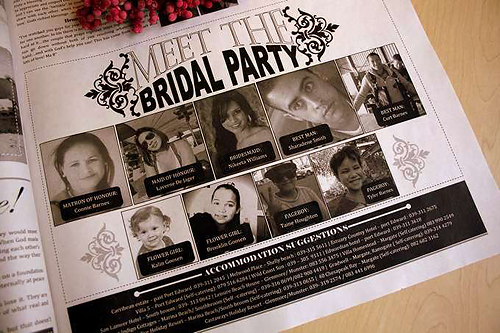 Sealing their love story and journey together thus far, Dane and Bronwyn's custom-made newspaper wedding keepsake makes for the perfect wedding invitation and favour. Be inspired by your unique love story and get in touch with NewsFavor.com today to learn how to create a memorable token of your love for each other and for your big day.
More Information
Contact Storm at NewsFavour.com to get your wedding newspaper printed!