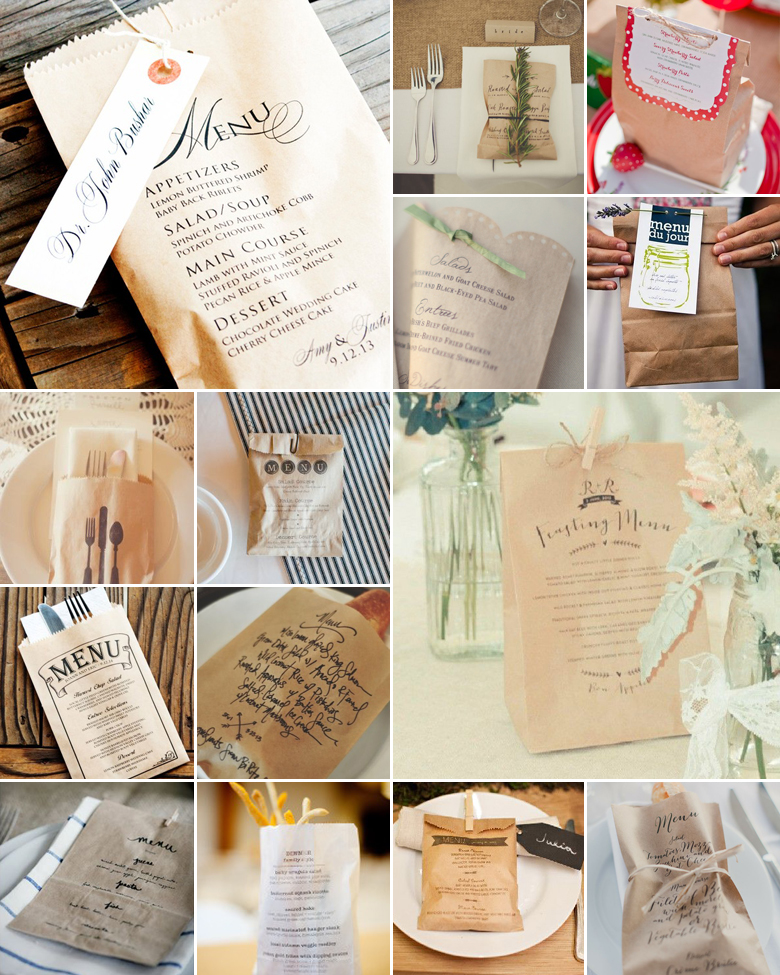 We just love stationery items that both inform and serve a practical purpose, and having your menu printed on a paper bag is the perfect example of just this. So what to put inside these nifty little menu bags, you ask? Well, the options are endless – here are some ideas:
Fill it with a surprise guest favour, for instance bowties for the gents and lovely handkerchiefs for the ladies, or edible favours like homemade biscuits, candies or chocolate.
Pack it full of little bites to sustain your guests through the speeches and from one course to the next.
Place refresher mints or chewing gum inside to cleanse the mouth before dinner time.
Vouchers or coupons – perhaps for the bar (in the event of a cash bar) or for the spa or restaurant at the hotel where all your guests will be staying at.
Spices and condiments are ideal since guests can either take it home or enjoy it there and then, with their meal.
Use the bag as packaging for a mini baguette, cheeses or bread sticks to cleanse the palette in between the courses.
Napkins or wet wipes! This is especially ideal if the table is looking too cluttered as it is.
Instead of placing the cutlery around the plate, place it inside the baggy – out of the way!
Fill the bag with fresh herbs to add fragrance to the table and give guests a whiff of what the main course will bring.
For an organic themed wedding, place a little plant, succulent or herb seedling inside the paper bag for decoration and for guests to plant after the wedding.
Original images and their credits available on Pinterest