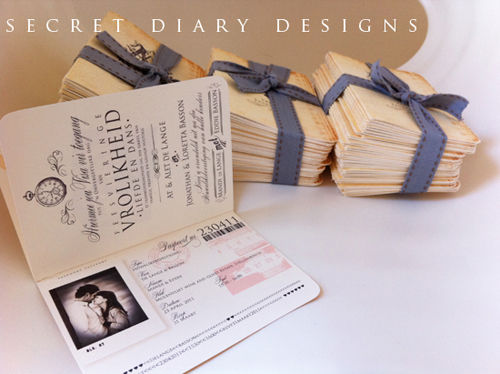 Contact:
Today we showcase these amazing passport invitations from Secret Diary Designs! This is what they had to say:
"Mandi and Eddie got married in April at Molenvliet Estate and had their wedding coordinated by the Aleit group. In saying that they wanted something completely signature to them. Having travelled together in the past as well as their relationship being a journey in itself, they decided that a passport invitation would be the most fitting to them.
The look and feel of the passport invitation was to be more of a vintage look and feel but still incorporating a semi authentic passport / journey essence to the stationery. Antique stamps, photo strips and hand drawn illustrations were brought into the invitation design. Our talented newest designer, Stacey, also hand illustrated a charming little map to Molenvlient Estate to fit in with the rest of the invitations vintage theme. Each booklet was stitched together with cotton thread and comprised of 8 small pages. The amount of pages may be minimised as a pocket friendly alternative.
Since designing this invitation we have already had two other clients wanting the same passport invitation idea which we have happily agreed to give them!
Thank you Mandi and Eddie for being such superb clients and for all the kind words!"
For more information on this kind of invitation design and pricing please contact Secret Diary Designs. Here are some shots of these gorgeous invitations.