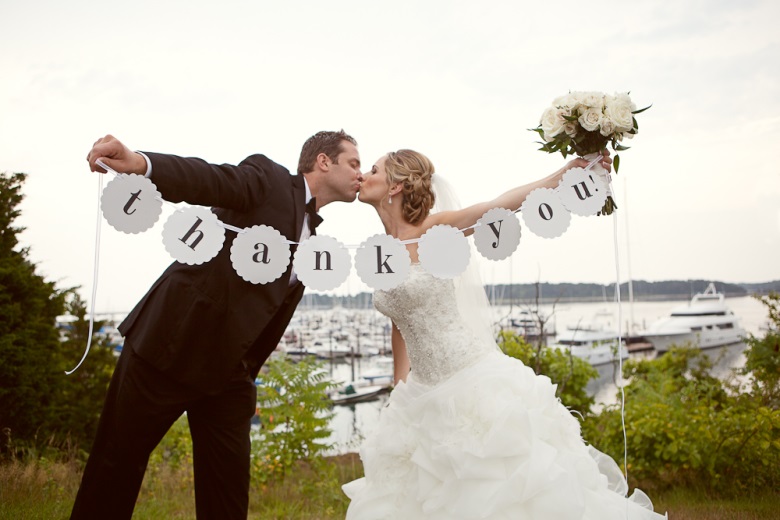 Your wedding day was a great success, your honeymoon memorable. You are back home and ready to settle into your new life as man and wife, but there is still one wedding-related task left. You need to send "thank you" notes to the friends and family members that shared your special day with you as well as to all those that spoilt you with wedding gifts. Note that these sincere sentiments should be expressed, not only to those that actually gave you a gift, but also to those that made the effort to be at your wedding, perhaps incurring costs to themselves or travelling long distances to do so.
In order to ensure that nobody is coincidently left off your gratitude list, make a detailed list of all of the gifts received during your engagement as well as at the wedding. You may delegate this task to your Maid of Honour or another close friend. Keep a record of each guest that made it to your wedding too. Before approaching the task of writing your "thank you" notes, list each guest and their corresponding gift, so that you are prepared and all gifts are accounted for. Your gift registry company may also have a record of purchases if you are totally stuck on who a particular gift is from.
Keep your gratitude note simple and heartfelt so that you do not get bored. Its purpose is to confirm that you received their gift and to let them know how very grateful you are for it. The note should have the name of the person or the names of both the people in a couple so that it is personal (as opposed to being addressed "to whom it may concern", for example). Go on to mention the specific gift from that person or couple and how you plan to use it. For example, you could say "Dear Dave and Susan, thank you so much for the digital frame. Steven and I can't wait to upload our family photographs onto it". Then, thank them again and sign off from you and your spouse.
If you received two or more gifts from a person or couple, it would be appropriate to include all of the gifts separately and in detail. The only exception is when receiving cash, in which case it is inappropriate to mention the amount of money received. Rather, it is better just to mention that their generous gift will be put to good use.
If a particular guest went to a lot of effort to be at your wedding or played a significant role in your big day, mention your appreciation in your note as well.
Your "thank you" note should be handwritten on tasteful notepaper, using black or blue ink. If you choose to print them (which is a more impersonal option), remember that your surname will likely change (if you are the bride) by the time you want to send them. Either print them with your married surname on or just have the first names of you and your spouse. "Thank you" notes should be sent out within three months of the wedding.
Examples of typical gratitude cards are:
TO FAMILY:
Dear Aunt Mavis,
Thank you for the beautiful porcelain teacups. They are gorgeous and Mike and I feel so honoured that you gave them to us; we know they are a family heirloom. Thank you too for joining us at the wedding, despite the delayed flights. We look forward to the next family reunion so that we can tell you all about our honeymoon.
With love,
Shelly and Mike
TO ACQUAINTANCES:
Dear Mr and Mrs Potgieter,
Thank you for the useful four-slice toaster; it will make waking up every morning that much easier. It was great to meet you at our wedding. We appreciate the long trip you made to get there.
With Love,
Mike and Shelly Watson
Photo Credit: www.bridalbyliz.com