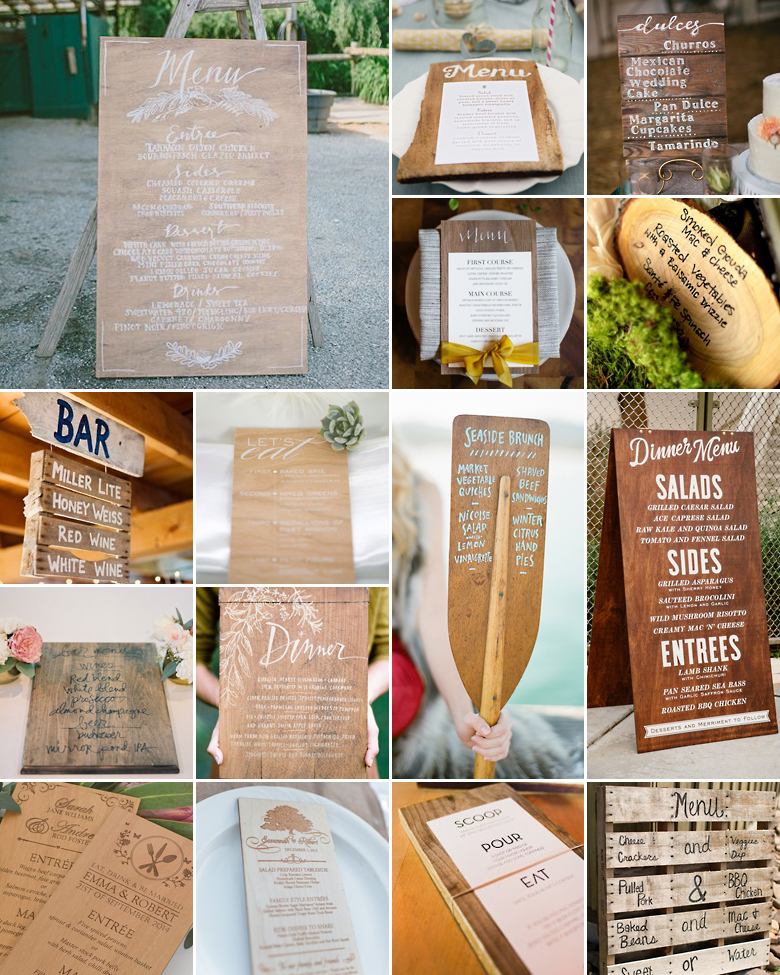 These days most stationery printers and designers have the ability to work on practically any medium, and with the big focus on all things green and organic, wood is fast becoming one of our favourites. Wooden menus are simply perfect for any type of simple yet rustic style wedding, and it's even more appropriate if it reflects the honest goodness of the dishes on the menu.
Play around with the shape of the menu – while square or rectangular might seem like the most viable option, there's no reason why you can't opt for a round shape or something more interesting like a triangle or flower. It's also important that the choice of wood reflect and complement the overall theme of your wedding – whether it's light and lively or dark and dramatic.
What's really handy however is turning your wooden menu into a "dual purpose" element. For instance, why not make a menu that's big enough to serve as a place mat, ideal for piping hot plates? We also love the idea of using recycled wood for the menus, whether it be wood from an old door frame or dis
Should printing or engraving on the wood be just a bit too heavy for your budget, there are other options you could consider – for example, printing the menu on paper and simply attaching it to the slab of wood with a bull dog clip. Alternatively, move away from individual wooden menus and simply make one big poster board listing the dishes for all your guests to see.
Original images and their credits available on Pinterest