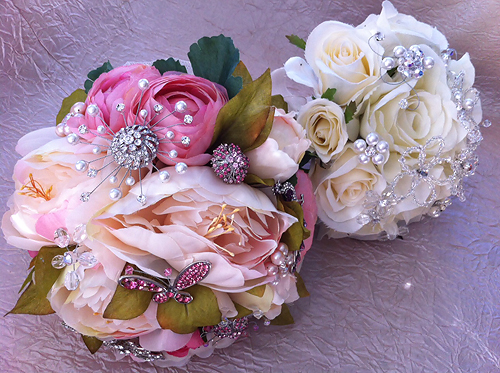 Spring/Summer 2012-2013 is all about colour! Red, purple, light pink, fuchsia pink, baby blue, coral and mint, as well as colours inspired by fruits – lime and tangerine – very appropriate for a spring wedding!
Crystal hair bands with flower detail, tiaras, birdcage veils with feather flowers, handmade bridal bouquets with crystals and pearls, floral inspired necklaces and earrings – with touches of your wedding colour/s added to the designs – are all trends for a Spring wedding. Another very popular accessory is the circlet as worn by Kim Kardashian on her wedding day.
I design accessories in collaboration with the bride to ensure that she has her perfect wedding look and is comfortable with what she is wearing on the day. I always advise the bride to be true to her own style and personality on her wedding day. When it comes to your bridal accessories, have fun with the latest trends and designs but it's important that you still look like you! And remember – if you are planning on taking advantage of a bespoke jewellery service, start planning your jewellery as soon as you have chosen your dress.
The vintage look is ever present for Spring/Summer, with lace still a strong feature on bridal gowns. Diamanté hair accessories, as well as lace handmade flower fascinators with feather detail add the finishing touches. They include detail of rhinestones, Swarovski Crystals, Freshwater Pearls, feathers and handmade fabric flowers.
How about this fun, modern trend? Have two sets of accessories to take your bridal look from ceremony to reception – from traditional to fun and glamorous! It's two looks without an outfit change! And with the fabulous colour trend – the sky's the limit!
Design and Creation of Bridal Tiaras & Coronets,
Fascinators, Birdcage Veils, Crystal Bouquets & Wands,
Hairpins & Combs, Bridal Jewellery as well as
Bridal Party Accessories
Bespoke Service Available
Take a look at some of the beautiful accessories available from Hayley Goodrich Accessories below.