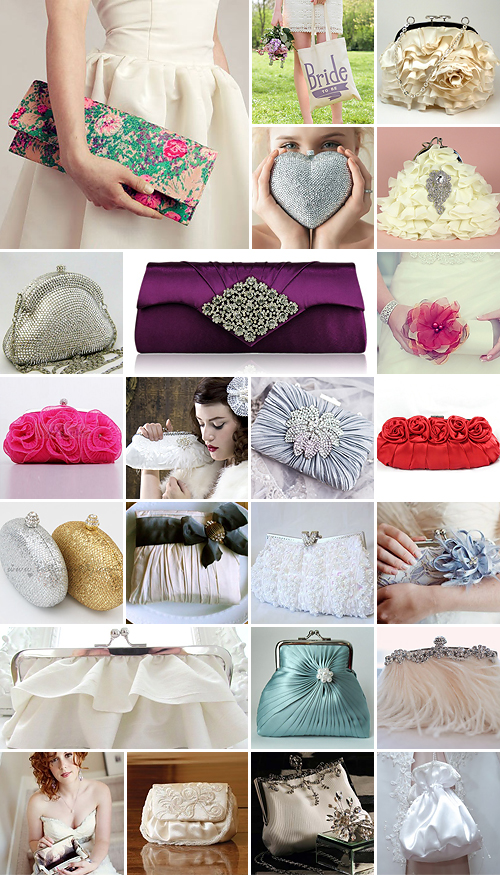 Though the mental image of a Lara Croft themed wedding is rather intriguing, stowing your lipstick the way Lara carries her ammunition is not exactly ideal. Bridal handbags are really the perfect solutions to the question of where to stow the essentials as well as providing an oh-so stylish finishing touch to your wedding ensemble.
These days many a bride can be seen strutting down the aisle with a cute little clutch instead of a bouquet, or even with both bag and bouquet. Instead of juggling the two, wear a floral wrist corsage instead, or ask your florist to design a bouquet that clips on to the bag – cute, simple and practical.
If you're not keen on carrying extra baggage down the aisle, have your maid of honour carry the pouch that holds all your must-haves. And seeing as it's really the maid of honour's job to guard the bouquet at the reception anyway, you can then swap your bouquet for her bag to add a little glam to your wedding outfit.
But let's look at a couple of tips for choosing the right bag for the occasion:
Choose a purse or clutch that will be comfortable to hold.
Make sure it compliments both your dress and shoes, whether it be in colour, fabric or beading.
Choose a small and elegant bag that won't steal the show.
On the other hand, the bag should be big enough to hold essentials like lipstick, hair grips and powder.
Don't try and squeeze too much into the little clutch, rather give extra items to the bridesmaids to ensure that your bag isn't heavy or bursting at the seams.
If you're feeling quite daring, opt for a gold or silver pouch. However it's crucial that your purse match your jewellery.
A clutch or mini handbag is also the ideal way to spoil your entourage, especially if you'd like them to carry a sparkling bag instead of bouquet. Fill each clutch with travel sized lotions and nail polish, or jewellery to wear on the day – your ladies will love you for it!
For more ideas on Mini Bridal Handbags or to check out the original photos displayed above and their credits, make sure to check out our Bridal Handbags Pinterest board!