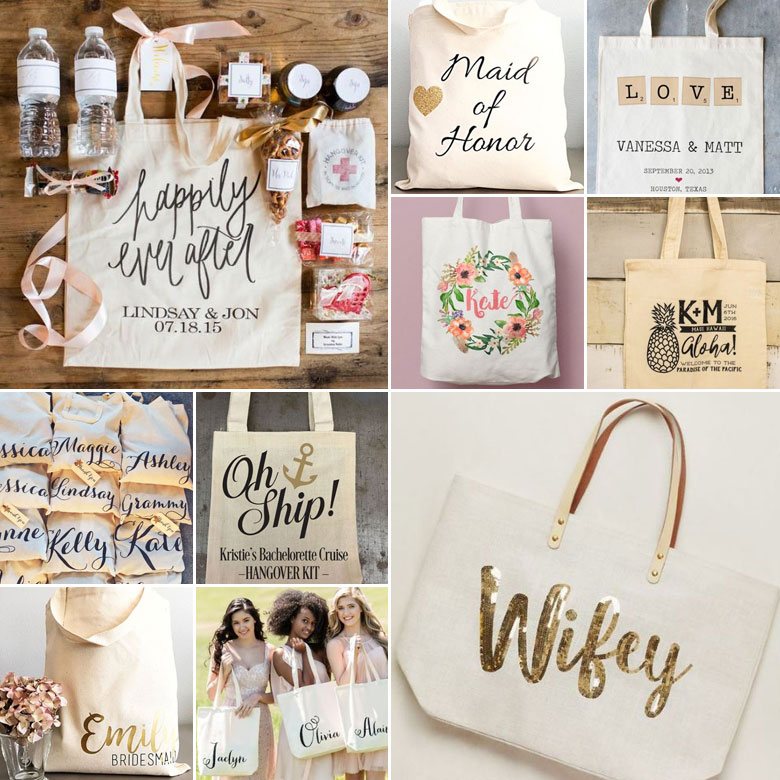 One of the most important rules for choosing your guest favours is to pick something that's handy and useful, right? Enter the humble tote bag. These nifty bags are especially ideal for your female guests, and if you order them in bulk, you won't even have to break the bank.
If you're spoiling someone extra special like your bridesmaids or mothers, you can take it a step further by filling the bags with all sorts of goodies. This could include pretty jewellery and body products to use on the big day, or ingredients for one of your favourite recipes. The same can even go for the groomsmen – after all, who wouldn't want ingredients for a "lekker potjie"?
Over and above the practicality aspect, tote bags are also easy to personalise. Whether you have it professionally printed or attack it with fabric paint and brush yourself, you can even go as far as to customise each bag with a bridesmaid's name. Then again, keep it simple with a love-related quote or your wedding day monogram.
The tote bag is also ideal for the bride herself, when carrying all those on-the-day essentials. Give one to a bridesmaid to fill with things like hair accessories, spare pantyhose, touch-up make-up and something warm to drape over your shoulders.
Buy Online
Contact us to order your tote bags today! Or, check out the range of bags available online!
Original images and their credits available on Pinterest