Bridesmaids Gifts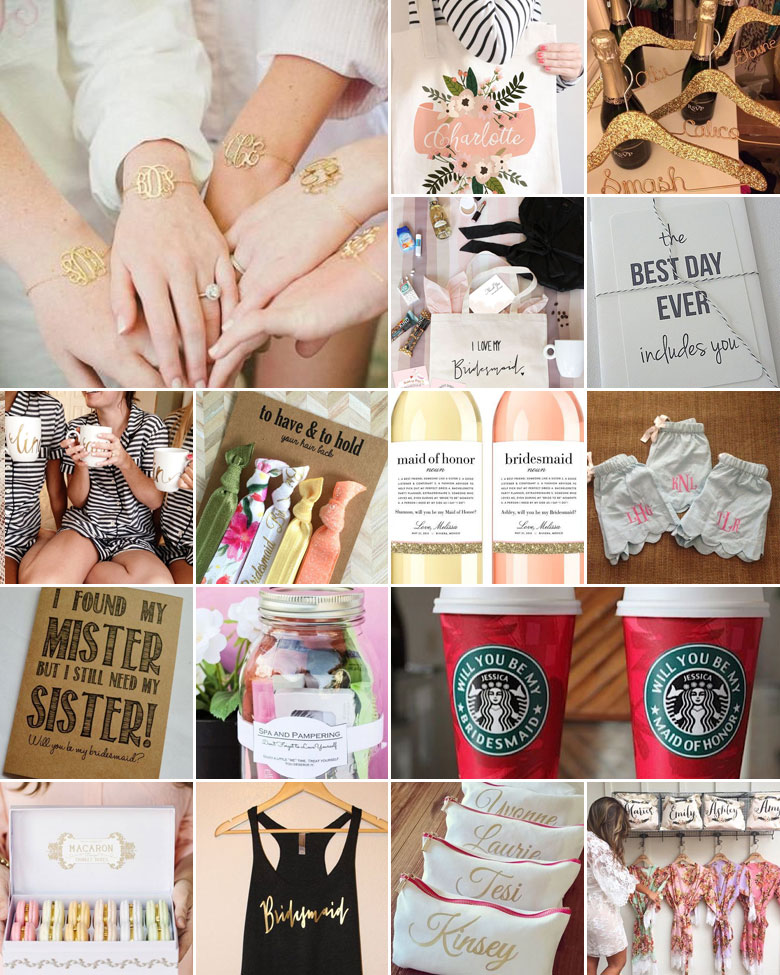 After months of butterflies, cake samplings, dress fittings, and the occasional tear, brides deserve to relax and enjoy their special day. It can be easy to forget those that helped you along the way in the midst of all the attention and excitement. But, these gems were specially appointed as your trusted bridesmaids for a reason, and probably carried much responsibility in the organisation of your wedding shower, gifts, RSVP's, and reception. Apart from these duties, these ladies are the special friends and family that you chose to share this special event and all the build-up with. During the wedding planning, these girls were your co-decision-makers, confidantes, shoulders to cry on, and friends to laugh with.
Because you chose each bridesmaid for a different reason, the gift you select to thank them needs to be personal and relevant, regardless of its monetary value. They should be given to each girl on the wedding day - either at the actual wedding, or while you are all getting ready together. Do not wait till your return from honeymoon; the sentiment is most heartfelt on your wedding day.
Knowing your bridesmaids, you will need to decide whether each gets a unique gift, or whether they all get the same gift with a personalised name or thank you note on it. Traditional gifts are, well, traditional, for a reason – they are practical, beautiful, and easy to personalise. These usually include gifts such as embroidered make-up or nail kits, perfume (this should only be bought if you know what perfume each maid likes, as it can be a costly investment), spa vouchers for a bit of TLC, a picture frame with a wedding photo inserted, or embroidered gowns for that pampered feeling.
Innovative gifts are those that require some insight into each bridesmaid, and a great deal of innovation, in order to ensure that it really is a unique, personal gesture of appreciation. One very personal gift is a Memory Box – a beautiful, perhaps reusable, box of photographs, cash receipts, relevant personal jokes, and so on that would remind each bridesmaid of the sometimes stressful journey leading to this event. For a more modern approach, this could be tailored to a DVD of footage focused particularly on that maid and her involvement in the process. This is a fantastic way of preserving the memory of your friendship, as well as your wedding day.
Alternatively, in keeping with the theme of love and romance that you will be enjoying on this day, each maid could also be allowed the privilege of enjoying a romantic picnic or sunset cocktail with her "special someone", courtesy of the bride. Customised picnic baskets or champagne buckets are a lovely gift, especially when you have taken the trouble to organise a romantic setting in which they may enjoy them. Add to this a small "Lessons of Love" box that includes little tips you have enjoyed learning, and this creates an idyllic setting for them to enjoy their memories of helping you to create your perfect day.
Although this is your day, this is also a very special day for those around you, who want you to have fun and be happy. The most important part of deciding on gifts is to remember the individual personalities, likes, dislikes, and quirks so that each bridesmaid feels appreciated in a unique, genuine way.

Need some help? Drop us an email and we will assist you putting something special together for your bridesmaid.