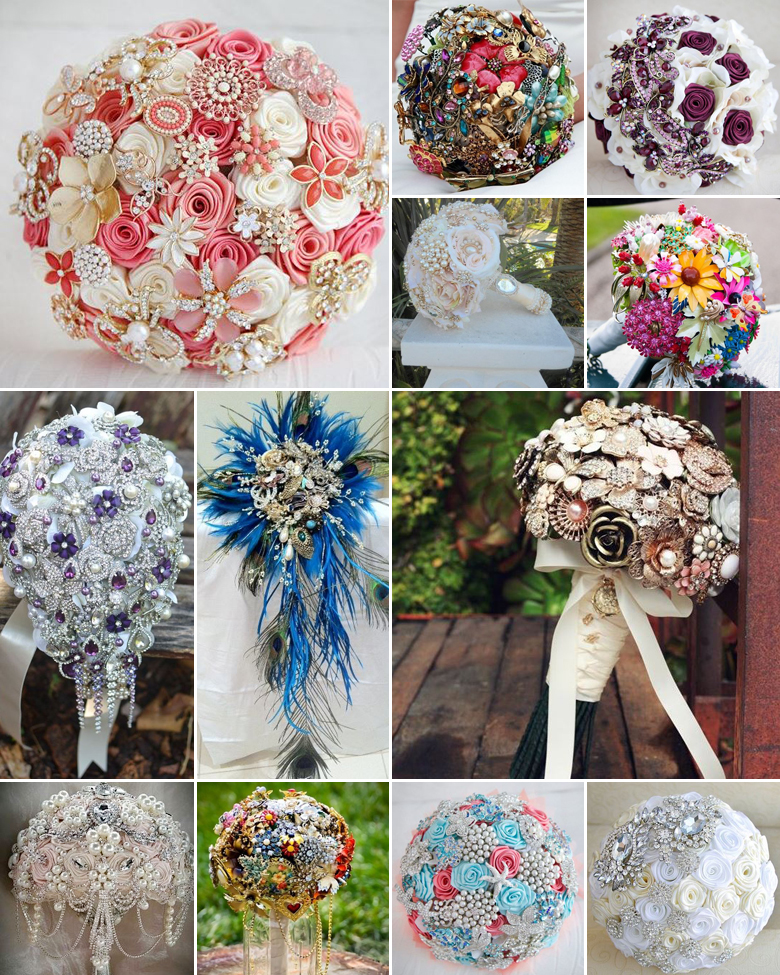 Brooches are one of those exquisite and timeless accessories that just keep on surprising us over and over again – it's nearly impossible to get bored with such classic beauty!
Brooch bouquets have especially grabbed us by the heart, as it's something that any DIY bride can whip up in no time. However if you're not in possession of a grandmother's brooch or have enough priceless jewels in the safe to fill an entire bouquet, fret not! All you really need is a packet of brooch pins, a blob of glue and a pretty little element and you've got yourself a brooch.
Large buttons, old Scrabble tiles, semi-precious stones and felt flowers are all excellent brooch-making materials and provide a handmade yet affordable alternative to precious metal brooches. You can also complement your brooch bouquet by incorporating more pins and pretties into your bridal ensemble:
Add a touch of bling to just about any pair of shoes by clipping a brooch onto the nose of each shoe.
Pin a couple of pretty brooches to a ribbon, tie it around your wrist and wear it as a unique and beautiful corsage.
Turn a brooch into a stunning hair-piece by removing the pin and sticking a sturdy hairgrip or comb on the back.
Jazz up your wedding gown by making your own statement belt using a sash and glittery brooch.
Add a little bling to a string of pearls by clipping a dazzling brooch onto the strand itself.
Original images and their credits available on Pinterest