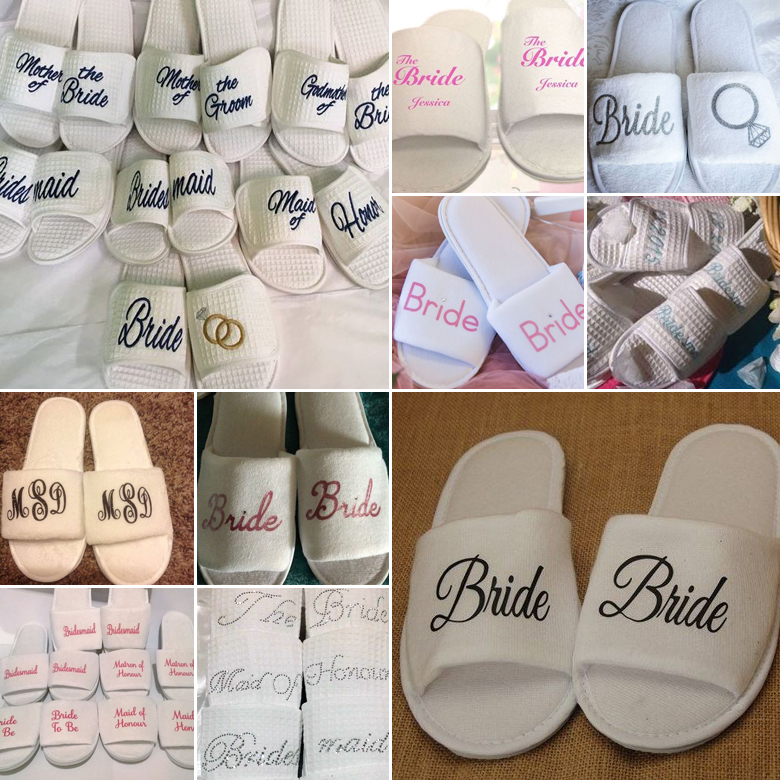 When it comes to wedding day preparations, nothing is more important than your comfort. After all, it's a long day ahead and you want to be rested and looking your best! Wedding slippers are the perfect way to give your feet a little rest in preparation for the standing and dancing that's to follow.
This cutesie footwear is also the ideal pre-wedding gift for your bridesmaids and mother of the bride, and it will look all too cute in the photos of your preparation! Look for slippers that match your pre-wedding outfit, and make sure they're super comfortable.
If it's within your budget, consider personalizing the slippers with every bridesmaid's name. Alternatively, look for slippers that are already embroidered with the words "Bridesmaid" and "Bride". Then again, if embroidery isn't for you, grab the bedazzling gun and decorate them with rhinestones instead.
If you're a guest in search of a gift for the couple, wedding slippers are a fantastic option and ideal for the honeymoon. What's more, you can buy a matching pair for bride and groom, because if ever there's a time a couple is allowed to be cute and cheesy, it's during their wedding season.
ORDER YOUR SLIPPERS TODAY – click here for more info!
Original images and their credits available on Pinterest