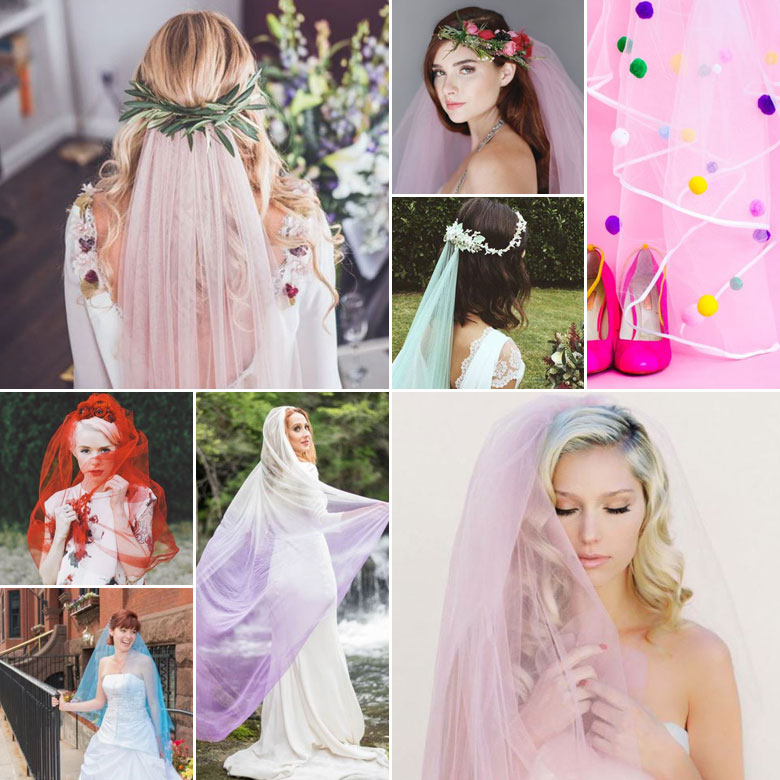 So often we hear the question, "I'm wearing an off-white wedding dress – so what colour veil should I wear?" Traditionally you can't go wrong with a white, cream or ivory veil, but what if tradition is simply out of the question? Enter: the colourful veil.
The colour options are endless – from bright & bold and dark dramatic, to contemporary neon and soft pastel. Before you choose a colour for your veil, you need to obviously think of your colour scheme and try to match that as best as possible.
Then again, if you're worried that you'll blend in with the furniture, think about the overall style of your wedding – for instance, if it's dark and dramatic, opt for a deep jewel colour like burgundy or even black, or if you're planning a light morning affair, choose something in lovely pastel shade.
To further add to the playful nature of the coloured veil, think long and hard about the length of your veil. A short shoulder-length piece is fun and whimsical, and what's more – you won't run the risk of stepping on it by accident! A longer length veil, on the other hand, is more suited to demure colours, and will automatically add a dramatic dimension to your ensemble.
Original images and their credits available on Pinterest