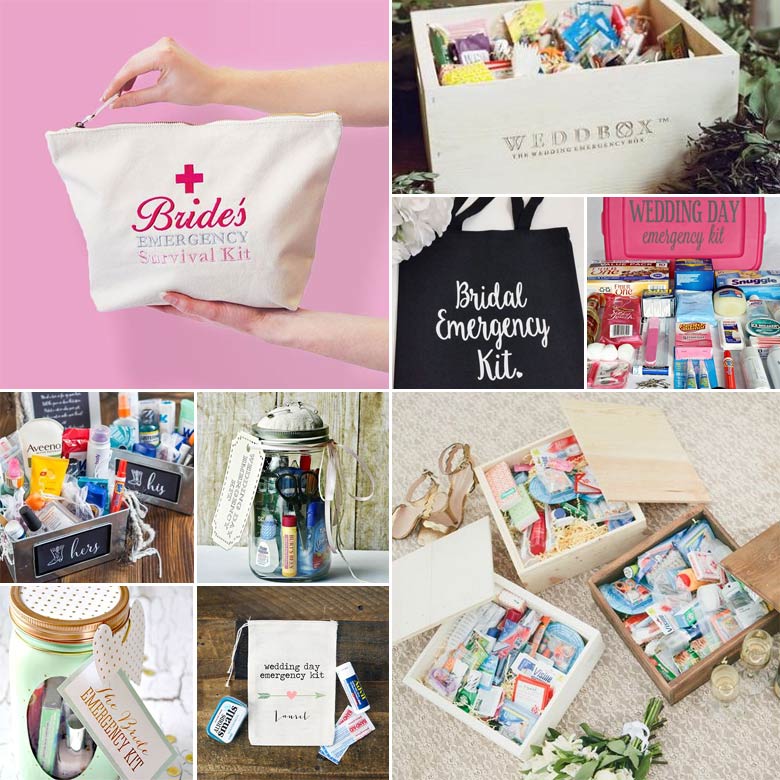 Your wedding day is getting closer, and you need to stay on top of everything! With this emergency kit on hand, you can rest assured that nothing will go wrong.
Band-Aids in case your new shoes aren't foot friendly.
Bottle of water because hydration is key!
Breath mints so the first kiss is memorable and beautiful.
Money in case you run into an emergency on the way to the venue.
Cell phone so your bridesmaids can stay on top of things.
Chalk to conceal smears or smudges on your white dress.
Clear nail polish in case you get a run in your stocking or a nail semi-breaks.
Comb/brush to keep your hair in check at all times.
For keeping your lovely locks looking fresh, gorgeous and tangle free.
Dental floss/toothpicks so that your main course doesn't stay with you all night!
Extra earring butterflies because they get lost so easily!
An extra pair of stockings just in case the cat gets hold of pair number 1.
Eye drops to prevent dry and itchy eyes in your photos.
Hair spray and pins – need we even say more?
Headache tablets in case the stress gets too much.
Mini sewing kit, safety pins, hem tape and scissors.
Mini make-up kit so you keep looking fresh all night long.
Sticky tape and prestik to tie up loose ends at the venue.
Sanitary products, just in case!
Tissues to catch the tears of joy.
Tweezers in case one or two brow hairs went astray.
Wet wipes to clean sticky hands – perhaps not even yours!
Original images and their credits available on Pinterest