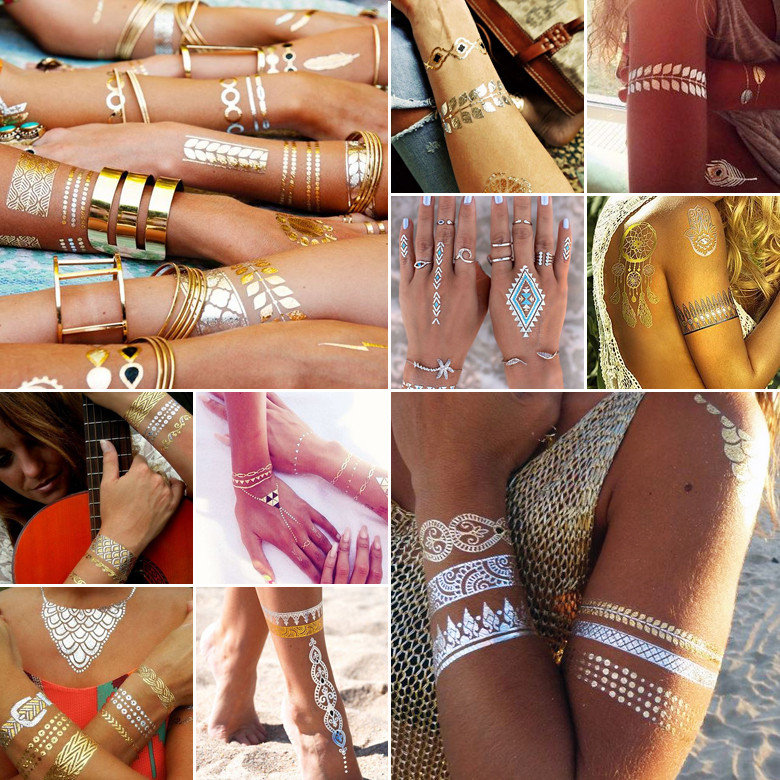 We can't wait for summer to arrive – not just so we can show some skin, but also decorate it! Inspired by tattoo art and traditional henna, these temporary gold, silver and bronze body art transfers are the ideal way to add accessorise without really adding accessories.
What we especially adore about metallic tattoos is the way they enable you to layer up without bulking up on too much jewellery; Necklace on tattoo necklace, wedding ring over tattoo ring – that sort of thing. Here are some other interesting ways to use them to bling up!
Decorate your left hand and, more specifically, your ring finger with these gorgeous tattoos.
Adorn your feet – even if you're wearing shoes, there's no reason why you can't step out in style by decorating the top section of your foot.
Instead of bangles that clang and hook, decorate your arms with temporary tattoos from your wrists all the up to your shoulders if you want.
Set up a "bling up" station where your guests can pretty themselves up with some temporary bling.
Add a gold or silver "outline" to your dress by applying the tattoos all along the seams of the dress, on your exposed skin – it will create the illusion that you're actually glowing.
Original images and their credits available on Pinterest