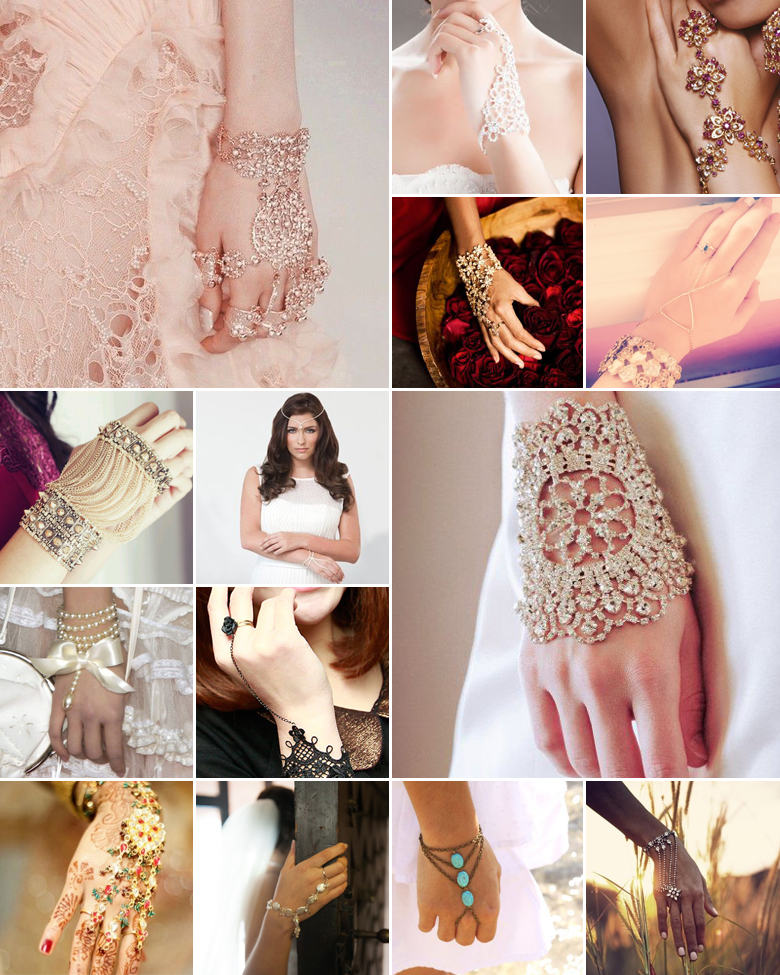 While the wedding band is without a doubt the most important piece of jewellery you'll be wearing on your hand on your wedding day, there's no reason why you need to stop there. Inspired by ancient hand art and henna, hand jewellery can be quite dramatic and, when worn with the right style of dress, can make a beautiful oriental statement.
Hand jewellery generally fits around the wrist and hooks onto one or more of your fingers, adorning the back of your hand. The design can range from simple and delicate to more chunky and elaborate, while you also have the option of including other materials like ribbons and lace. As with all jewellery, it's essential that your hand piece match the rest of your accessories in terms of metal choice and colour so that it works together in complementary unison.
While you could wear a piece on both hands, it's wise to keep your left hand free of any distractions so that the focus remains on the glittering wedding band. Alternatively you could look into having a piece designed that hooks onto your wedding ring, to draw even more attention to your marital hand.
When choosing hand jewellery, ensure that it's not too tight or too loose. Flex your hand in all directions to see if you have freedom of movement and also check whether or not it will slip off. What's more, you need to ensure that the embellishments won't hook the fabric of your dress or hurt someone's hand should you shake it.
Original images and their credits available on Pinterest