Jewellery Metal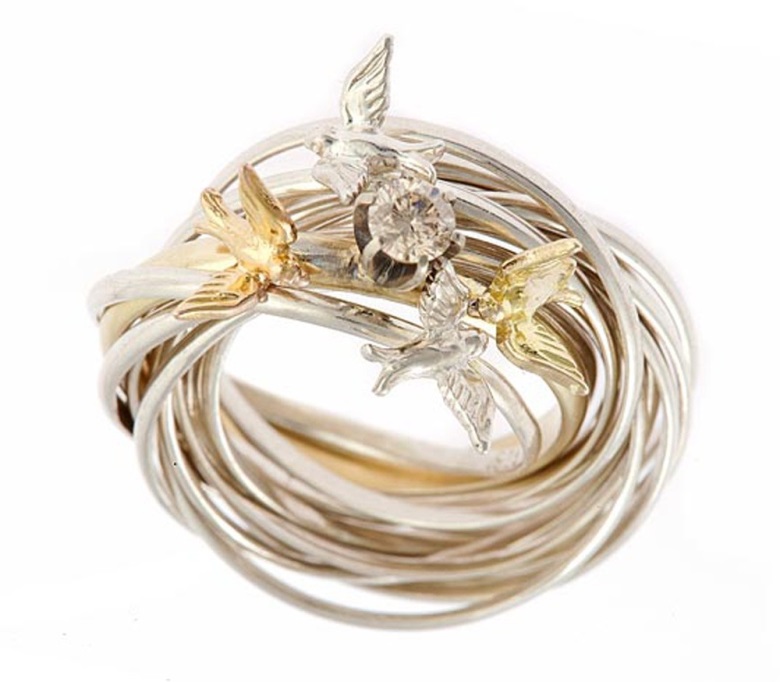 It's time to choose an engagement ring or you're deciding on your wedding rings – which metal is the best choice taking into account both budget and how it will look on both you and your partner. The most popular choice is Gold, but there are other choices available such as Platinum, Gold, White Gold, Titanium and Sterling Silver. Find below brief information on each of these precious metals to help you decide which metal to choose for your wedding and engagement rings.
Platinum
Symbol: Pt
Platinum is a versatile, pure and rare metal offering a beautiful white lustre. This particular metal is a popular choice among brides for both the engagement and wedding rings.
Qualities and Basic Info on Platinum
Platinum is hypoallergenic and is therefore suitable for those with sensitive skins.
Platinum rings and jewellery will not fade or tarnish over time, therefore making it an ideal choice of metal for jewellery to be worn on a daily basis.
Resistant to wear and tear and durable, Platinum rings will ensure diamonds or other precious stones are well protected for the years ahead.
Diamonds will have their beauty and colour enhanced by Platinum rings.
Platinum is very rare and therefore rings and jewellery made from Platinum will be more costly or expensive.
Platinum is a dense metal, thus a platinum ring will be heavier than a gold ring.
Gold
Symbol: Au
Gold is certainly the most popular worn metal around the world. This versatile and precious metal has been used for centuries for monetary purposes, ornaments and jewellery.
Qualities and Basic Info on Gold
Gold is unaffected by most chemicals and does not tarnish.
There are different varieties of Gold including:
Rose Gold
White Gold (see below for more information)
Green Gold
Blue Gold
Other metals are alloyed with Gold to give the Gold different colours or tinges as well as to strengthen the Gold.
Gold is measured in karats which is the measurement that determines the number of Gold to other metals on a scale of 1 to 24 (24 karat = Pure Gold).
White Gold
White gold is a combination of metals including an alloy of Gold and silver metals such as silver or palladium. Some combinations may even include Platinum for weight and durability purposes.

Qualities and Basic Info on White Gold
White Gold is measured in Karats and is available in various karats. The highest quality of White Gold is usually at least 17 karat, but popular options include the following:
18 karat
14 karat
9 karat
White cold rings and jewellery are made "more white" using a technique called Rhodium plating.
White gold rings and jewellery will require more cleaning or recoating over time. You can find from your jeweller how much this should cost.
White gold jewellery, if mixed with nickel can result in a skin reaction i.e. skin rash. If you do have sensitive skin, make sure to check with your jeweller / jewellery designer that the jewellery items do NOT include nickel.
Titanium
Titanium has been becoming more popular in the past few years. This durable, silverfish grey metal is the hardest metal in
the world.
Qualities and Basic Info on Titanium
Titanium jewellery is very light weight
Pure titanium is also 100% hypoallergenic, therefore it is suitable for those with sensitive skins
Titanium is three times as strong as steel and stronger than Gold, Silver and Platinum
Titanium jewellery is not scratch resistant.
Titanium rings cannot be resized – something important to keep in mind when choosing a titanium wedding or engagement ring.
Sterling Silver
Sterling Silver is most used for jewellery for both its beauty and durability and is one of the three classic precious metals, alongside Gold and Platinum. It is an alloy of 92.5% pure silver and 7.5% copper.
Qualities and Basic Info on Silver
Sterling Silver is more affordable in comparison to the Gold, Platinum and Titanium.
Silver has been around forever and therefore is a safe fashion choice and will never go out of fashion.
Silver tends to scratch easily.
Silver has been known to cause skin irritations for those with sensitive skins.
Taking the above information into account will allow you to determine the most suitable metal for your rings or bands and allow you to stick within your budget.
Photo Credit: www.diaquente.com