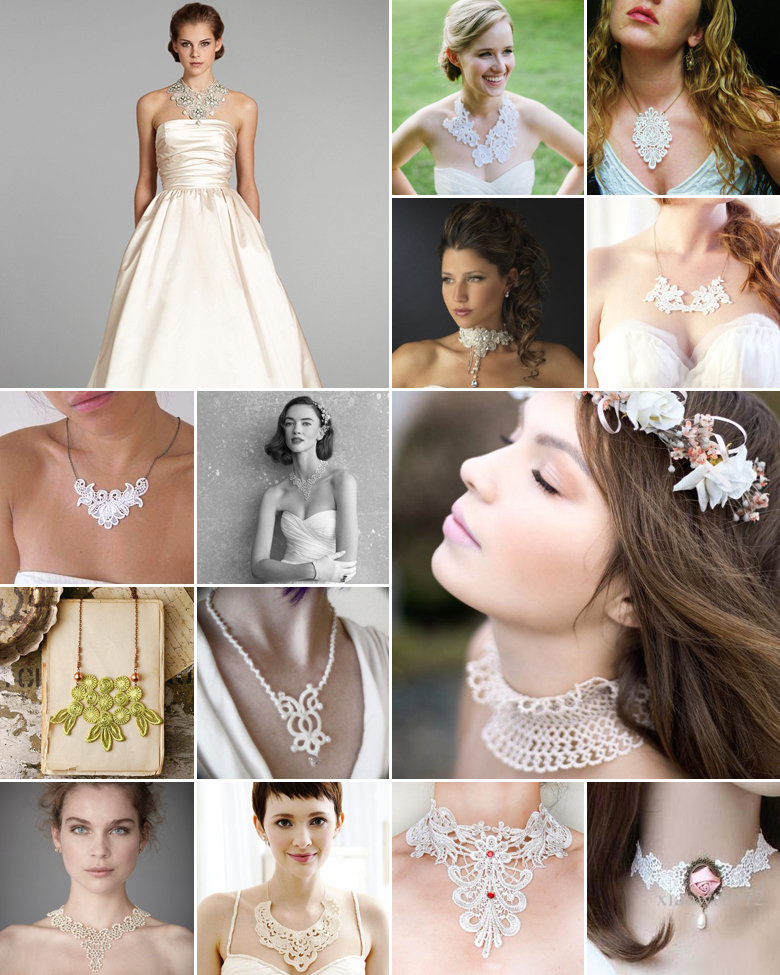 Whoever said lace is meant for clothing and table cloths only clearly haven't laid eyes on one of these delicate and intricately designed neck adornments. Lace necklaces, or removable lace collars for that matter, are a dramatic addition to both contemporary and vintage bridal ensemble, and exude a sense of femininity that few other jewellery pieces can compete with.
As these necklaces tend to make quite a statement, it's absolutely essential that you keep the rest of your accessories quite simple and minimalistic – especially in terms of earrings and other neck jewellery. What's more, the actual design of your dress should be just as simple around the bodice so as not to detract from the splendor of the necklace.
Lace necklaces generally work best with strapless gowns as the presence of straps could make your neck and shoulder area look overly cluttered, drawing attention away from the stunning appeal of the necklace and your bridal beauty. While a white lace necklace that matches the shade of your wedding gown is the more obvious choice, there's no reason why you can't be daring and push the boundaries with a sexy black lace piece or one in the same shade as your flowers.
An excellent way to ensure that your necklace complements your dress, is to have it custom made, using the same lace as found elsewhere on your wedding dress. In fact, you can even take it a step further and opt for a necklace that hooks onto your gown, forming a complete and deliciously dramatic "unit", so to speak.
Original images and their credits available on Pinterest