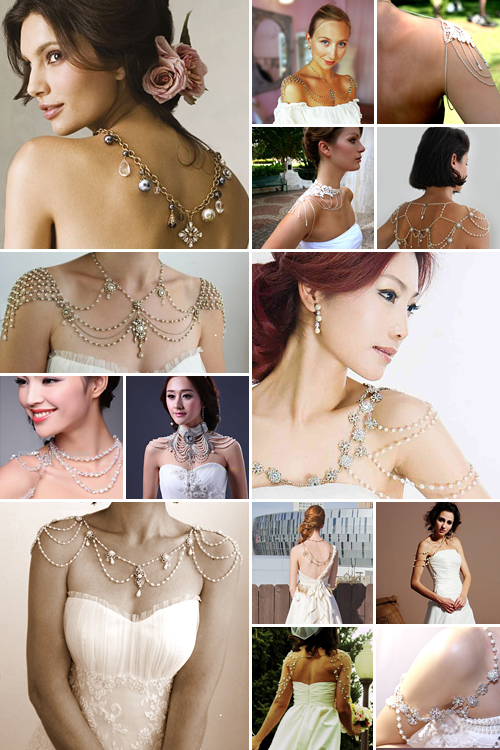 Just because it's called a necklace, doesn't mean it's reserved for the neck and nothing but the neck. Whether you're going the vintage route or just looking to make a statement, a shoulder necklace is the perfect way to complete your bridal look and focus the spotlight firmly on you.
Drama, drama, drama is really the best way to summarise one of these magnificent pieces as it takes statement necklaces to a whole new level. Shoulder necklaces come in a variety of shapes, sizes and designs and should be crafted to match the neckline of your dress. For instance, if you're wearing a dress with a low cut back, consider a necklace that's more detailed at the back than in the front.
Needless to say, these pretties are best worn with strapless gowns. As the necklace already provides enough detail on the upper part of your body, try to keep the bodice of the dress relatively clean and simple.
Statement shoulder necklaces are ideal for brides who either 1) have beautiful shoulders and want to flaunt them, or 2) wish to draw attention away from broad hips or a flabby belly. If you have quite broad shoulders however, steer clear of symmetrical necklaces that make you look even more wide set.
Once again – because the jewellery piece is so detailed, it's important to keep the rest of your accessories absolutely minimal; that's to say, small or no earrings and if you're thinking of wearing a tiara, don't. Instead, consider a dainty vintage hair fascinator that complements the necklace and ties the entire look together.
Original images and credits available on Pinterest