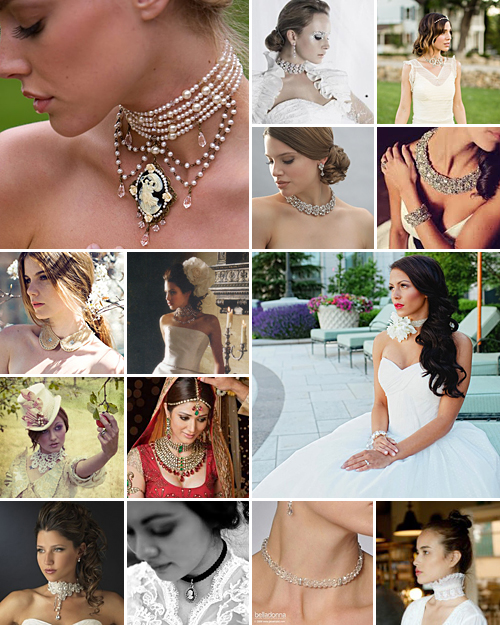 Daring, striking, dazzling, bold – these are just some of the words that fashion magazines use to describe the choker. While it used to be reserved for nights out on the town, this stunning neckpiece has hit the wedding world with a metallic bang. The challenge however is to choose and wear a choker that flatters your neck without making it look double the size.
First off you need to evaluate your neck, both length and width-wise. If you're blessed with a long slender neck, you can pull of a choker with more detail and gems, whereas someone with a shorter or wider neck should opt for a simple statement piece.
Chokers tend to steal the spotlight, hence it's best paired with an understated yet elegant gown that will complement the bold simplicity of the choker. Positioned either on or just above the collarbone, a choker immediately highlights a slender neckline – ideal if you want to draw attention away from large hips or other problem areas below.
One must also keep in mind that the more skin you leave bear around the choker, the more striking and eye-catching it will be. It's therefore important to choose a neckline that doesn't compete with the necklace but rather puts it on display – strapless, sweetheart, deep V-neck or scoop necks are just examples of necklines that can work beautifully.
In terms of other bridal accessories, feel free to pair the choker with a chunky bracelet or a pair of earrings – dangling chandeliers for a dramatic look and studs for something a bit more relaxed. Finally, complete the look with smoky eyes or ruby red lips for a look that will melt him at the knees.
For more Wedding Chokers, the original photos above and their credits, make sure to check out our Chokers Pinterest Board!