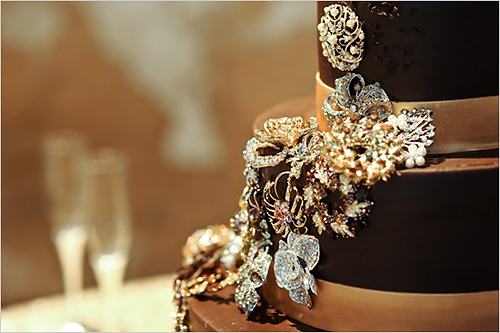 Brooches are one of those exquisite and timeless accessories that just keep on surprising us, reinventing itself season after season. With vintage being all the rage right now, brooches are more popular than ever before and family heirlooms, such as Cameo brooches and antique silver pins are suddenly just too pretty to leave in the safe, especially on a day that's as special as that very brooch.
However if you're not in possession of a grandmother's brooch or have a priceless jewel in the safe, fret not! These days all you really need is a packet of brooch pins (available at most craft and bead shops), a blob of glue and a pretty little element and you've got yourself a brooch. Large buttons, old Scrabble tiles, semi-precious stones and felt flowers are all excellent brooch-making materials and provide a handmade yet affordable alternative to precious metal brooches.
While the original idea behind these simple jewels was to pin them to the lapel, modern day brides are finding more and more adorable uses for them by the wedding day:
Brooch bouquets are big news at the moment, so try to get your hands on a batch of beautiful brooches to make your own.
If you're going with real flowers, wrap the stems in a length of ribon or lace and pin it with a sparkling antique brooch.
Add a touch of bling to just about any pair of shoes by clipping a brooch onto the nose of each shoe.
Pin a couple of pretty brooches to a ribbon, tie it around your wrist and wear it as a unique and beautiful corsage.
Turn a brooch into a stunning hair piece by removing the pin and sticking a sturdy hairgrip or comb on the back.
Make a number of crochetted flowers and sew a pin onto the back of each one – the ideal napkin "ring" and guest favour for your lady guests.
Adorn your wedding invitations with handmade brooches that your guests-to-be can keep as a little 'hello gift'.
Jazz up your wedding gown by making your own statement belt using a sash and glittery brooch.
Add a little bling to a string of pearls by clipping a dazzling brooch onto the strand itself.
Spoil each of your bridesmaids with a lovely brooch to keep as a reminder of this special time in your friendship. If the budget allows for it, have custom brooches made with each bridesmaid's initials.
Use vintage brooches as cake toppers and dazzling decoration for the wedding cake.
Take a look at some of these ideas below.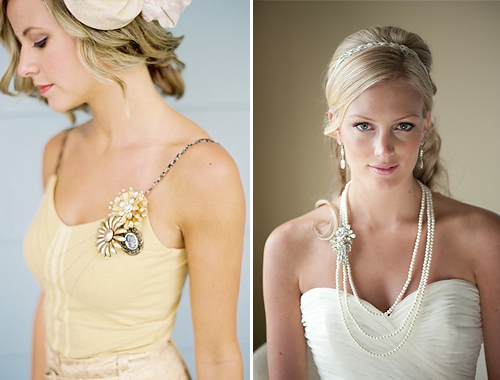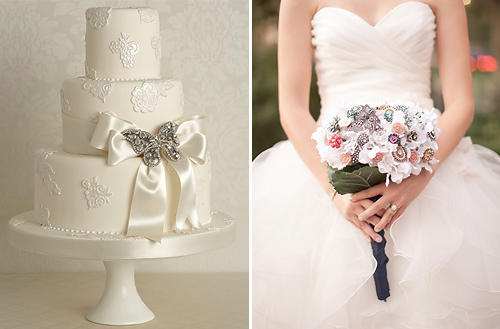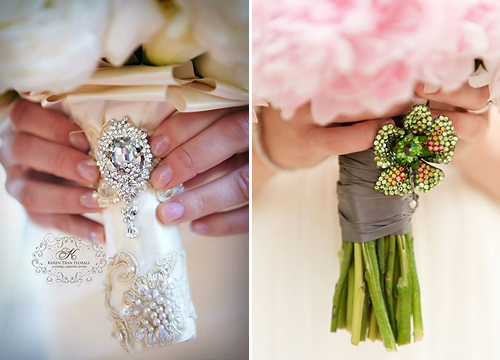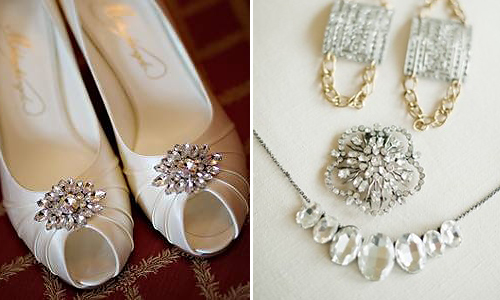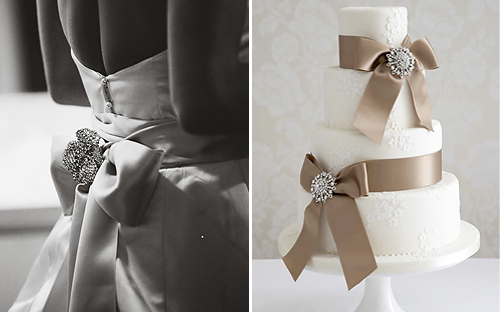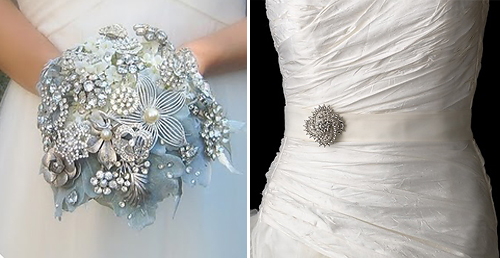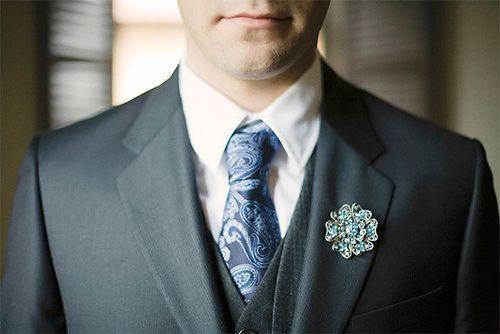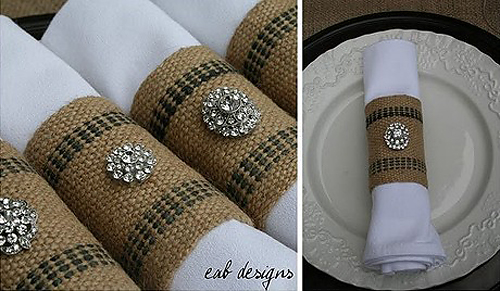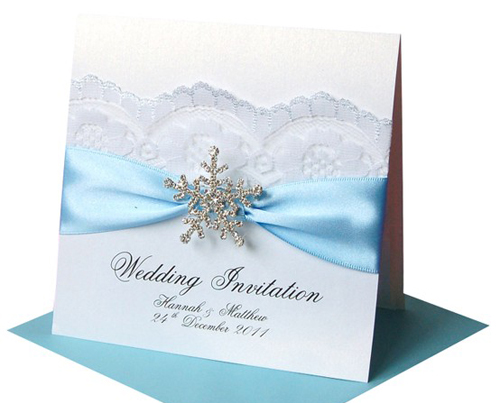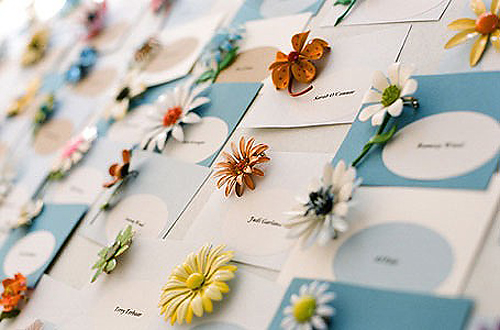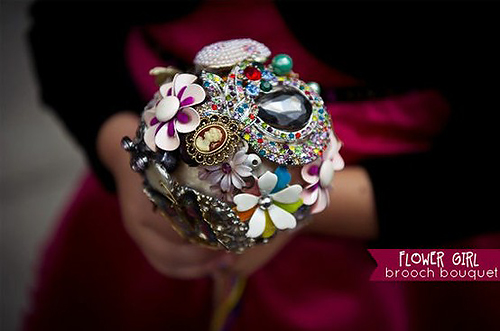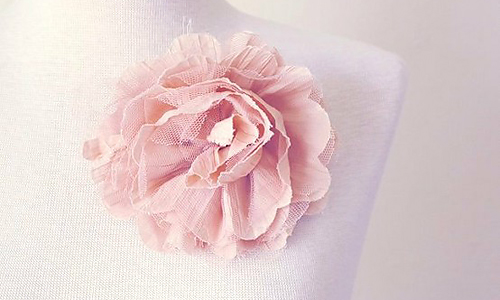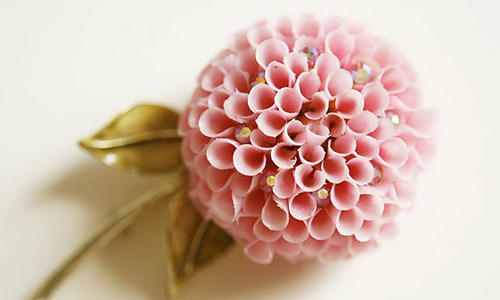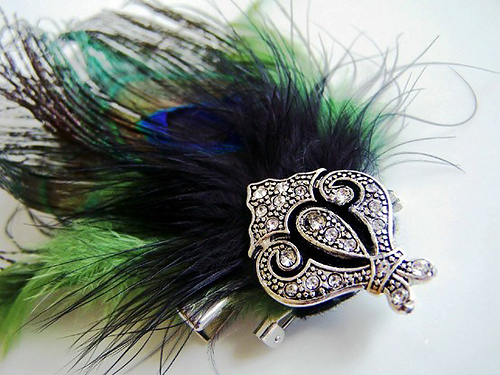 For more ideas on Wedding Brooches or to check out the original photos displayed above and their credits, make sure to check out our Wedding Brooches Pinterest Board!