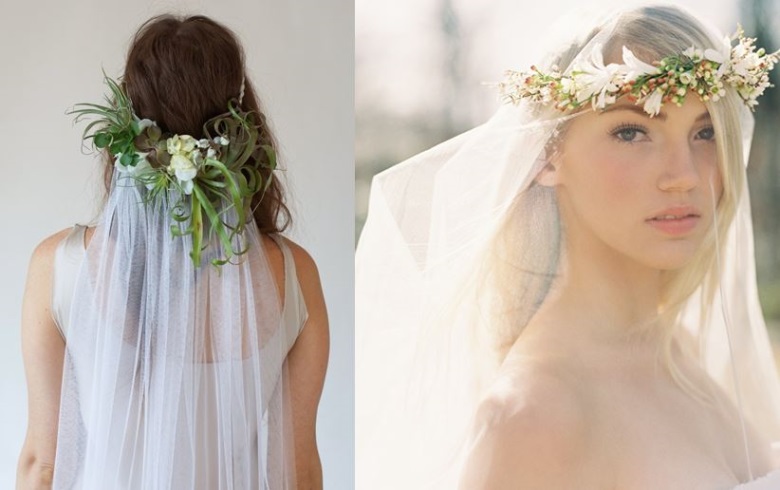 Your wedding day is your opportunity to look as spectacular as you feel. However, many brides have been imagining this day since they donned their favourite fairy dress for their fourth birthday. As a result of their years of whimsical planning, many brides find themselves lugging tradition is all its forms down the aisle. A veil is a major part of every little girl's wedding fantasy, and memories of swirling around the bedroom with mom's tea towel or voile curtain on our heads is a common memory of dress-ups.
Veils have earned a fair reputation of being outdated, though, so it is important that you consider whether you really want a veil and whether you want one for the right reasons.
It is vital that the correct veil be chosen as it is an item often left till last and abandoned on top of an otherwise well-arranged outfit. The veil compliments or clashes with the wedding dress you have painstakingly selected, and it is worth spending time and money on choosing the one that suits your dress and even your body shape. If your dress does not lend itself to further adornment, accept that a veil would negotiate the appeal of the entire outfit.
Simple dresses can be 'lifted' by a well-chosen veil, while ornate dresses are complimented by a tasteful unadorned headdress. What is important is that the veil does not compete with you or your dress on the day. Bear the height of the groom in mind when selecting a veil, as a high design may make you appear much taller than him.
Generally, there are three popular veil lengths. The first is the formal, full-length veil, which ends just at floor level. This is known as the Cathedral or Chapel veil. The medium-length veil usually ends at the elbow or finger tips, and is perfect for a more relaxed environment, but also suitable for a traditional church wedding. The "Blusher" ends at the shoulder line and is the perfect finish for the informal wedding. Length is important as longer veils may detract from the detail on the back of the dress and short veils may make the bride appear frumpy. Too-long veils are tripping hazards, and it is recommended that you practice walking, sitting and dancing with your veil on before the wedding day.
Veils offer an ideal opportunity to introduce colours or patterning that you may have been nervous to include in the gown. This is a fun medium for subtle expression, and can be used to bring out the colours of your flowers, or the outfits of the flower girls and bridesmaids. The fabric also lends itself to experimentation and, while it should definitely set off the dress, it can be another opportunity to introduce different colours and textures.
When deciding whether or not to don a veil, you should certainly explore your options before committing to a decision. Shop around, and try on a few styles and colours with your dress, making sure that you get the opinion of a trusted confidante. Veils are intended to compliment the wedding dress and can make or break your ensemble. By being aware of the dangers and merits posed by the various veil designs, you are equipped to make a subjective informed decision to ensure that you look your absolute best on your wedding day.

Photo Credit: peoniesandpancakes.wordpress.com