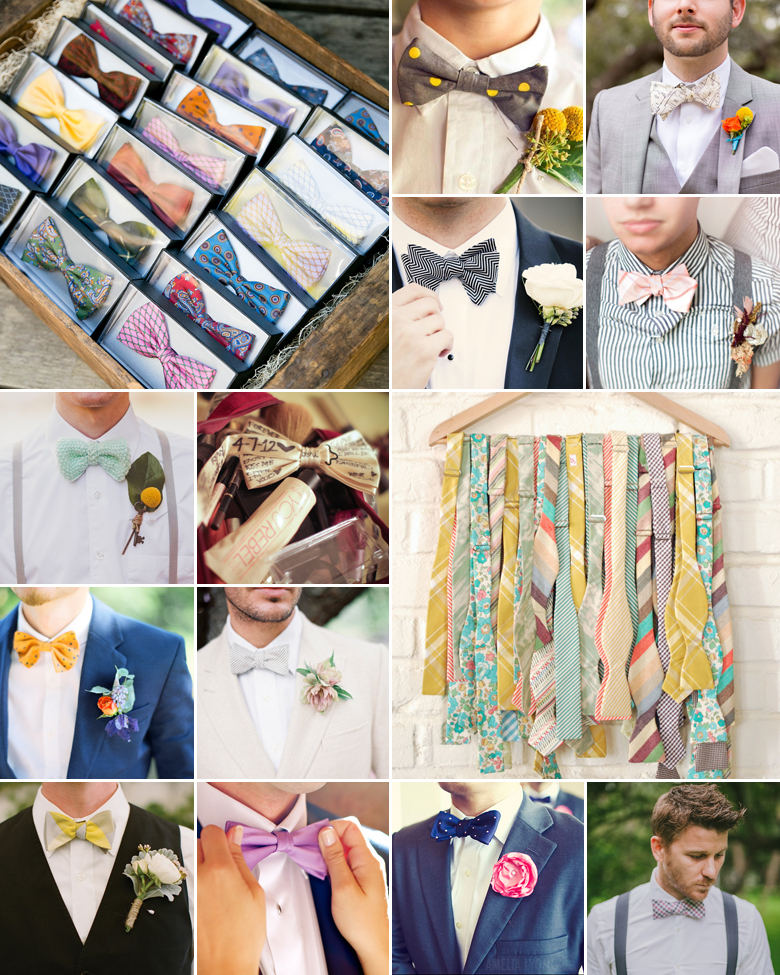 Bow ties need no introduction and have been around since before Charlie Chaplin can even remember. These little ties are the perfect addition to hubby-to-bes outfit and a great way for him to add a little fun, quirkiness and personality to his own ensemble. The first option would be to choose the same bow ties for him and his following, however the better option is to really allow him to stand out – in other words, bow ties for the grooms men and a long tie for the groom or vice versa.
If you really want to take the bow tie theme to the next level, give each male guest a bow tie as guest favour to wear at the actual wedding – this will not only bring a smile to their faces, but also allows for cute and quirky wedding pictures. Set up a little bow tie station for the guests to try on various colours and patterns while having a laugh about it. Alternatively make a bow ties a dress requirement in the wedding invitation.
Bow ties work exceptionally well in conjunction with:
Braces, either in a similar colour or contrasting.
Coloured socks with a funky pattern or detail.
Tweed jackets for a real English Country Garden or farm boy style.
A waist coat (without jacket) and shoes with character, like boat shoes, sneakers or leathers.
A fedora – too cute and charming, just like a right stable boy.
Rolled up shirt sleeves. This creates a charming and laid-back appeal.
A moustache!
For a few final fun bow tie touches, serve Chinese bow ties for dessert and add a bow tie detail to your wedding cake design. Jazz up the ring bearer's outfit with a tiny bow tie and jazz up the photo booth dress up box with oversized bow ties or paper bow ties mounted on sticks.
Original images and their credits available on Pinterest